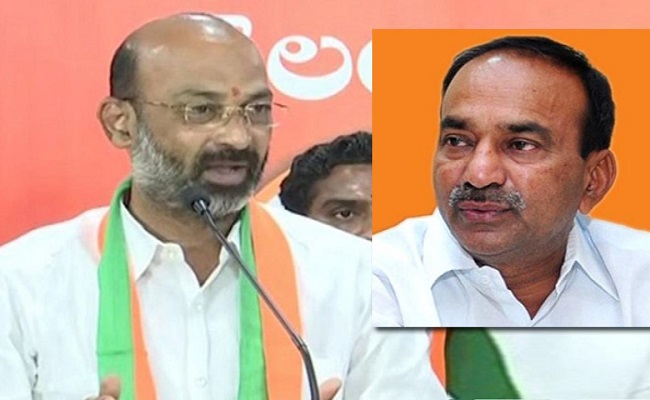 Ever since former Telangana health minister Eatala Rajender won the by-election to Huzurabad assembly seat in Karimnagar district, a cold war of sorts is learnt to have begun in the Bharatiya Janata Party's Telangana unit.
There has been a talk in the BJP that soon after he won the by-election, Rajender has been growing more and more aggressive in the party and has been acting independently without bothering to consult the state BJP leaders.
Rajender has been extensively touring all parts of the constituency, getting felicitations from various sections and attending meetings without even bothering to involve the local BJP leaders.
He has been throwing challenges at the TRS and making statements, without the knowledge of the BJP leadership.
What has angered the state BJP leadership was the way Rajender extended support to an independent candidate in the MLC elections in Karimnagar under local bodies' quota.
The candidate Ravinder Singh, a former mayor of Karimnagar, has quit the TRS after being denied the ticket. He was a close associate of Rajender in the past.
The BJP, in fact, has decided against fielding a candidate in Karimnagar because it has no strength in the local bodies.
But Rajender, without even consulting the party, extended support to Ravinder Singh. This come as a shock to the BJP leadership, particularly Bandi Sanjay, who is also from Karimnagar.
It is learnt Sanjay has complained to the high command against Rajender, saying if the BJP loses the MLC elections, it would be a loss of face for the BJP and that would create troubles for him in the next elections.
The BJP leaders are of the view that Rajender is thinking too much of himself and is planning to unseat Bandi Sanjay. This has resulted in a shadow boxing between Bandi and Eatala.
"It might erupt any moment," a party source said.