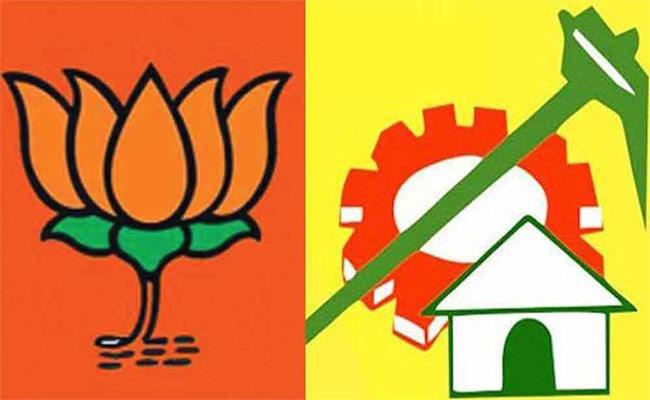 All these days, it is the Telugu Desam Party led by former chief minister N Chandrababu Naidu, which has been championing the cause of Amaravati farmers who are fighting for the retention of the Andhra Pradesh capital city in their area, instead of being shifted to Visakhapatnam.
Though Jana Sena Party headed by power star Pawan Kalyan has also extended support to the demand of Amaravati farmers on the capital issue, he or his party leaders have hardly taken up any agitation on their behalf.
The Bharatiya Janata Party, too, remained a silent spectator on the Amaravati capital issue for a long time.
It was only after the visit of Amit Shah to Tirupati for the southern zonal council meeting in November 2021 that the BJP took up a pro-Amaravati stand and its Andhra leaders have started talking against three capitals proposal of the Jagan government.
Yet, there were no instances of the BJP leaders taking up any agitation for retention of capital city at Amaravati. They had a token participation in the Chalo Tirupati rally of Amaravati farmers to express the party's solidarity with the capital cause.
Now, the BJP leaders have decided to take up the agitation in support of Amaravati farmers in a big way. Senior leaders like Somu Veerraju, Kanna Lakshminarayana and others would take out a week-long padayatra in 29 villages of Amaravati as a mark of solidarity with the cause of Amaravati.
The padayatra would commence at Vundavalli of Tadepall mandal on Friday and would pass through various villages in the capital region. They would walk for 75 km, before culminating in a public meeting at Thullur on August 4.
During the padayatra, the BJP leaders would obtain the feedback of the people and also the government and submit the same to the Centre. It would help the Centre take a decision on the three capitals issue.
While the BJP's move is obviously to gain political mileage in Guntur district, it is learnt the TDP leaders and cadres has decided to extend support to the BJP campaign for Amaravati. That way, the TDP doesn't want to let go the advantage it has in the region.
It remains to be seen how the YSR Congress party will react. The Jagan government has created a lot of hurdles for the TDP agitation for Amaravati in the past. One wonders whether it will go soft or adopt a tough stand towards the BJP padayatra.