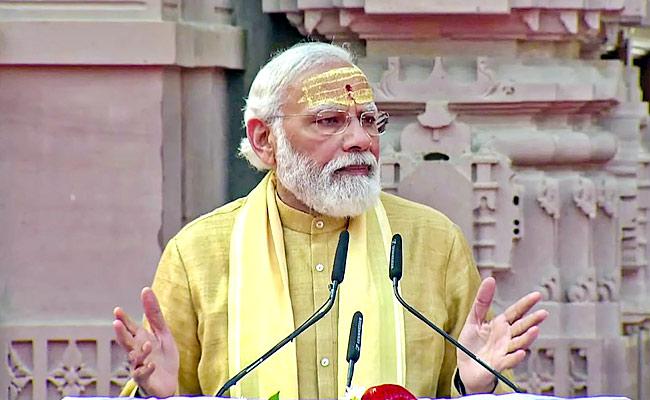 The massive arrangements being made by the ruling YSR Congress party in Andhra Pradesh led by chief minister Y S Jagan Mohan Reddy for the public meeting of Prime Minister Narendra Modi at Visakhapatnam on November 12 is learnt to have pushed the Bharatiya Janata Party leadership in the state in a tight spot.
The entire schedule of the Prime Minister was designed by the Central government, as he would be inaugurating a series of programmes pertaining to the Centre.
At the public gathering to be held at Andhra University Engineering College grounds, Modi will launch works for a slew of projects worth Rs 10,842 crore.
Some of the projects include: works for railway re-development project (Rs 460 crore), modernisation of fishing harbour (Rs 152 crore), Sheela Nagar to Convent Junction road widening (Rs 566 crore), laying of GAIL pipeline from Srikakulam to Angul (Rs 2,658 crore), road expansion between Ichapuram and Paralakhemundi (Rs 211 crore), ONGC field development project in Eastern offshore (Rs 2,917 crore) and AP section of Visakhapatnam-Raipur greenfield economic corridor (Rs 3,778 crore).
Since it is an official meeting, the local BJP leadership has no role to play in it. However, the arrangements for mobilisation of crowds would have to be looked after by the state government.
That is precisely why, chief minister Y S Jagan Mohan Reddy has taken it as a prestigious issue. He entrusted the task of mobilising crowds to party general secretary and Rajya Sabha member V Vijay Sai Reddy, instead of party in-charge of Visakhapatnam Y V Subba Reddy.
This is causing an embarrassment to the state BJP, which doesn't want any mileage to go to YSRC.
The BJP leadership is of the view that Jagan might take it as an advantage to push his agenda of three capitals and particularly highlight the need to make Visakhapatnam as the executive capital.
If Modi makes any commitment on Visakhapatnam, it would be politically disadvantageous to the state BJP which has been supporting Amaravati.
That is why, the BJP leadership is learnt to be lobbying in New Delhi to get the public meeting cancelled and restrict Modi's programmes to official event.
Even the Telugu Desam Party is said to be of the view that Modi's public meeting might bring the YSRC closer to the saffron party national leadership, which will affect its plans to forge an alliance with BJP and Jana Sena combine in future.
So, it is also using its own good offices with the Delhi BJP leaders to get the public meeting cancelled. But no BJP leader has the capacity to make changes in Modi's schedule.
Let us see what is going to happen in the next couple of days.