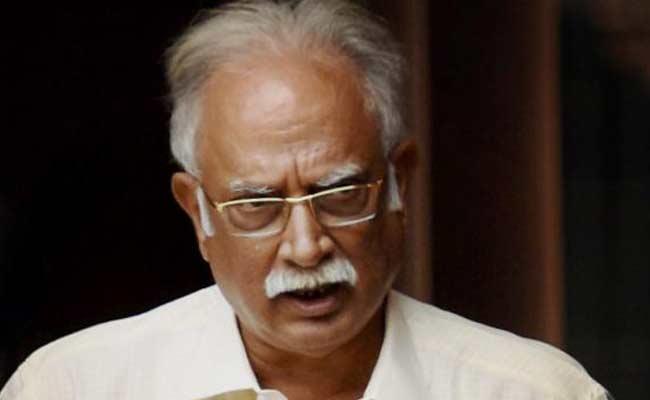 Former Union minister and senior Telugu Desam Party leader Pusapati Ashok Gajapathi Raju is apprehensive that there is a conspiracy by the Jagan Mohan Reddy government to sack him again from the post of Simhachalam temple trust board chairman.
He said he has been under pressure from the trust board members to regularise the encroachments in the "pancha gramalu " (five villages) of the Simhachalam temple; while the Jagan government is waiting to sack him, if he succumbs to the board members.
Ashok said the trust board members, who were the nominees of the state government, were acting in contrary to the rules of the same state government, which is the actual decision taking authority with regard to the disputed lands.
"They are adopting contradictory stands so as to make me a scapegoat. The moment I sign the file on the recommendation of the trust board, I will be removed from the chairman post. State endowments minister Vellampalli Srinivas has already challenged that he would get me sacked," the veteran TDP leader said.
Stating that he won't take a decision against the government rules, Ashok said if the trust board members are very keen, they should send the proposal in writing and he would send it to the legal experts for their opinion.
"I cannot blindly follow the board resolutions," he said.
The contentious issue of 'Pancha Gramalu' lands has been hanging fire for the last 25 years.
The previous TDP government had issued a GO on regularisation of the lands, but it was caught in a legal battle. After YSRC government came to power, it constituted a high-power committee headed by the Endowments Minister to solve the issue.
Later, the government expanded the committee by including MPs Vijayasai Reddy and B Satyavati.
The committee proposed to give 560 acres of land in the first phase to the Simhachalam Devasthanam as an alternative for facilitating regularisation of temple lands, which are under occupation in the five villages surrounding the temple - Purushothapuram, Vepagunta, Adavivaram, Gopalapatnam and Cheemalapalli villages.