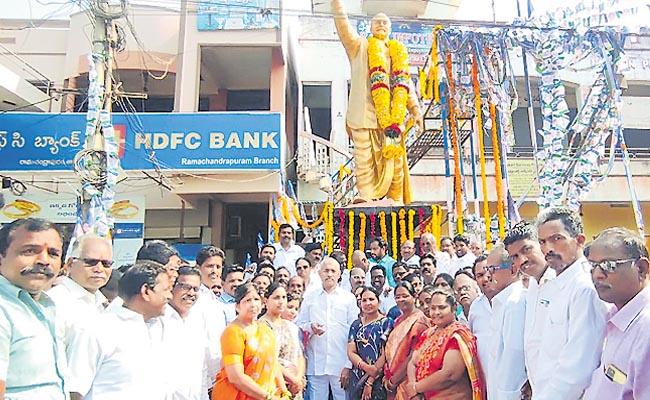 The YSR Congress party, led by Andhra Pradesh chief minister Y S Jagan Mohan Reddy, completed 12 years of its inception and entered 13th year on Sunday.
Undoubtedly, it is a remarkable journey for the party, which was born out of anger towards the Congress party that sidelined the YSR family after his death.
The party, which entered the record books by securing a massive mandate in the 2019 assembly elections winning 151 out of 175 assembly seats in the state, is rearing to win all the 175 seats in 2024.
With just one year left for the elections and such an ambitious target fixed by the chief minister, one would expect the YSRC leaders and cadre celebrate their party foundation day in a grandiose manner and take the party's message in a big bang way.
But the euphoria was somehow missing in the party leaders on the 12th foundation day of the party. It was totally a low-key affair with the party leaders confining themselves to the head office, cutting the cake and delivering speeches.
The YSRC leaders, ministers, legislators and activists distributed sweets, cut cakes and fruits in the hospitals to mark the celebrations in different parts of the state. But there were no grand programmes and events anywhere.
The chief minister himself did not take part in the celebrations at least at the party office. He only posted a message on the social media, thanking the people in the state and overseas who owned the party for the past 12 years.
Jagan wished that his journey with the people who have been backed him to the hilt in the past 12 years should continue throughout his life.
"I thank each and every party worker who spread the party flag on their heart-from the bottom of my heart. I wish this colourful journey to continue for long," felt chief minister.
At the party headquarters, there was a low-key programme of the party leaders, addressed by party general secretary and state government advisor Sajjala Ramakrishna Reddy.
He gave a lecture as usual, saying YSRC would never face any defeat in the elections as it reached the hearts of millions of poor through the schemes and programmes of the chief minister.
At different parts of the state, too, there were no grand celebrations. Apparently, there were no directions from the head office as to how they should celebrate the event.
"It appears the strategists of the YSRC have failed to make use of the occasion to take the party strongly into the people and convince them about the need to vote for the party again. They must be either overconfident or ignorant of the importance of the foundation day," an analyst said.