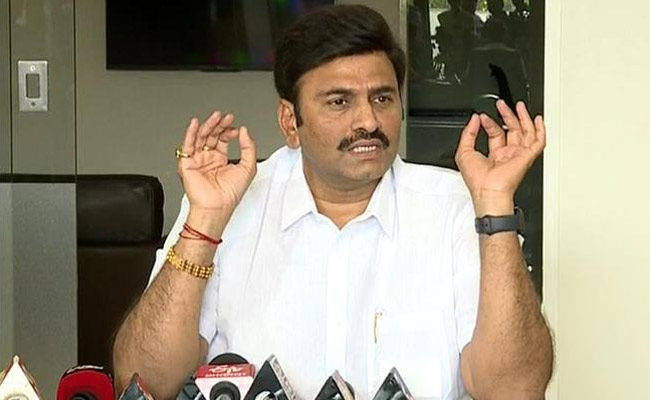 Rebel YSR Congress party MP from Narasapuram parliamentary constituency in West Godavari district K Raghurama Krishnam Raju continues to provoke the party leadership with his stinging comments, even as the party is trying hard to get him disqualified from his parliament membership.
On Monday, Raju claimed to have got a survey done on the prospects of various political parties, if the elections to the state assembly and parliament are held immediately. He predicted that the YSRC would fare very badly in the elections.
He said the YSRC would not be able to get more than 50 seats out of the total number of 175 assembly seats in the state if elections are held now.
"Except in one or two constituencies like Bhimavaram (Granthi Srinivas), Kovvuru (Thaneti Vanitha) and Nidadavole (G Srinivasulu Naidu), the YSRC is unlikely to win any seats in West Godavari district," he said.
The rebel MP also predicted that in Chittoor district, except Telugu Desam Party president N Chandrababu Naidu, minister Peddireddy Ramachandra Reddy from Punganur and P Dwarakanath Reddy, YSRC MLA from Tamballapalle, no other sitting MLA would win the elections.
Raju, however, did not disclose which party would come to power in the state, if the elections are held now.
However, by saying that the YSRC would not get more than 50 seats, he indirectly hinted that the TDP would come back to power in the state.
Interestingly, Raghurama Krishnam Raju claimed that he would win the Lok Sabha elections from Narasapuram again.
He asserted that even if Jagan contests the Lok Sabha elections from Narsapuram, he would defeat the chief minister with huge margin.
"According to the survey, I will get 19 per cent votes more than Jagan in Narasapuram," the rebel MP claimed.
However, Raju also provided a tail piece to his survey.
"The prediction is based on the survey conducted at present. Situation might change in the coming years and the YSRC might get more than 150 seats again or might fall below 50 seats mark," he said.
He said he did not want to disclose more details about the survey. "I have revealed only basic details only to counter the malicious campaign by some people," Raju added.