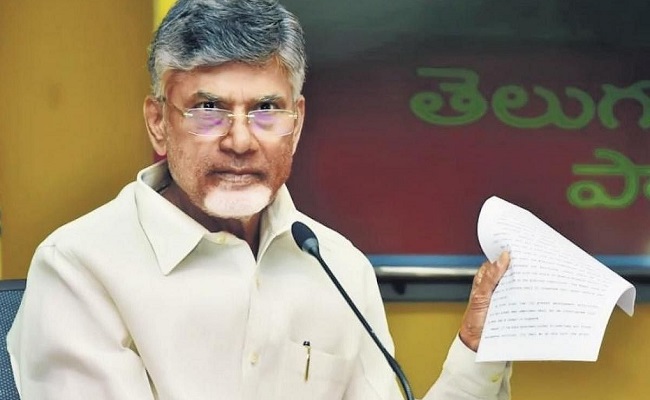 Despite receiving a humiliating setback back in the rural and urban local body elections in Kuppam assembly constituency in Chittoor district, Telugu Desam Party president and former Andhra Pradesh chief minister N Chandrababu Naidu has decided against shifting to some other constituency in the next assembly elections.
Naidu, who began his three-day tour in Kuppam on Thursday, addressed a gathering of party cadres and people at Devarajapuram village. He said he was very much disappointed with the results of the local body elections in the constituency.
"Never in the past did we witness distribution of money among the voters in Kuppam. In any of the elections I had fought in the constituency, I never sought votes by distributing Rs 1,000 or Rs 2,000 per vote," he explained.
The TDP chief said if the YSRC leaders insulted him on the TDP's defeat in Kuppam, it was an insult to every person in the constituency.
"But the days won't be same every time. We shall get back our glory," he said.
He asked the party cadre of Kuppam whether he should move to other assembly constituency.
"Is it necessary? I am the most favourite of the people of Kuppam constituency. I will never think of running away from Kuppam to any other constituency," he said.
Naidu, however, said he was very much pained when the YSRC leaders were talking about the TDP defeat in Kuppam.
"Jagan said he wanted to see Chandrababu Naidu's face in the assembly after the loss of the TDP in Kuppam. The ruling party leaders have also drawn vicarious pleasure by making cheap comments on my family members," he pointed out.
Stating that he would stand by his pledge that he would go to the state assembly only in the capacity of the chief minister, the TDP chief said it was time the party stand united to ensure the party's victory in Kuppam.
"I will overhaul the party in the constituency and drop the coverts from the party," he said.
Naidu said if the TDP leaders and cadres remain united and put up a strong resistance, even the police won't be able to do anything. He promised to take decisions as per the wishes of the party workers in Kuppam and won't continue the leaders who were not working up to the expectations.
He warned the YSRC leaders and the police officials who were targeting the TDP workers and the common people.
"I am noting down all their names and number. I will settle all their accounts after coming to power. We, too, can do rowdyism, but it is not the TDP policy. I will stand by each and every party workers and take every blow they face seriously," he asserted.