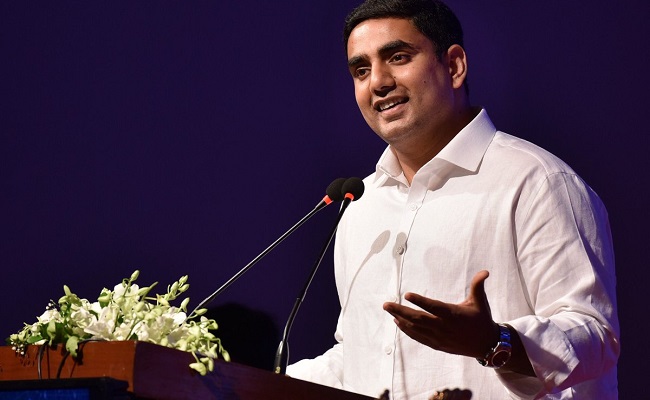 If Telugu Desam Party president and former Andhra Pradesh chief minister N Chandrababu Naidu has his way, the party is gradually going to focus on projecting his son Nara Lokesh as his only successor in the party.
Naidu has apparently realised that his time is more or less up in the state politics.
He is already 72 years old and by the time the next elections are held, he would be 74 and he knows he won't be in a position to run the party for long, as age is catching up on him.
The TDP will go to the next elections with Naidu as the chief ministerial candidate as he still commands some kind of respect among the people as an able leader. If he projects Lokesh as the CM candidate, people might not vote for the party.
If the TDP wins 2024 elections, Naidu will try to project Lokesh as his heir apparent by 2029 elections. But by then, he will have to get the acceptability within the TDP, as many senior party leaders do not have faith in the Lokesh.
That is precisely why Naidu on Tuesday came up with the proposal of allocating 40 per cent of the party tickets to youth in the coming elections in the state.
Needless to say, majority of these "youth" would be loyal to Lokesh and in future, they would accept his leadership.
Naturally, the decision might upset the senior party leaders. It is learnt Naidu might offer tickets for the children of these seniors so that there would be no revolt from them.
The seniors, too, would be accommodated in respectable party and government positions, if the TDP comes to power.
In the coming days, this "young batch" of the TDP leaders would be asked to work under Lokesh, as Naidu would tell that he would be soon retiring from politics, because of his growing age and health reasons.
The TDP chief made it clear that the youth would be encouraged to take the lead in the party so that there would be an efficient and effective leadership at all levels of the party organisation for the next 40 years.
He said the young generation should realise this in the best interests of their own golden future. The party tickets would be given only to those youth who would stand in the frontline of struggle against the suppressive regime.
So far so good. But the question is whether Lokesh would prove his worth as a leader even after 2024. If Lokesh loses the elections again in 2024, then, he would be of no use both to Naidu and the party; and even youth leaders won't accept him as Naidu's successor.