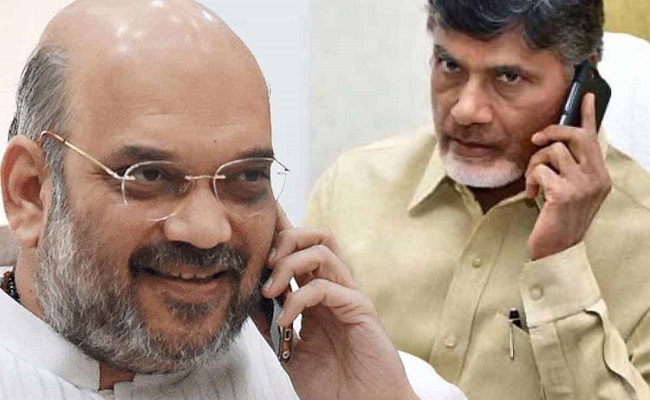 Telugu Desam Party president and former Andhra Pradesh chief minister N Chandrababu Naidu failed to get the appointment of Union home minister Amit Shah during his visit to New Delhi on Monday and Tuesday.
He wanted to submit a personal representation to Shah complaining against the Y S Jagan Mohan Reddy government over the recent attacks allegedly by the YSR Congress party cadres on the TDP officers and leaders across the state.
But Naidu returned empty handed and when the YSRC leaders were making fun of him, the party came out with a statement that Amit Shah himself called up Naidu and enquired about the visit. He also assured to give time to Naidu at a convenient date.
Now, the Union home minister will be visiting Tirupati on November 14 to address the Southern Zonal Council meeting to discuss various issues including law and order and regional development.
The meeting would be attended by Governors, Lt Governors, chief ministers, chief secretaries, advisors and other senior officials of the five southern states – AP, Telangana, Kerala, Karnataka and Tamil Nadu, besides three Union territories of Pondicherry, Andaman and Nicobar and Lakshadweep.
Since Andhra Pradesh is hosting the meeting, there is a possibility that Shah might have one-on-one meeting with the chief minister besides other leaders.
Since he is expected to stay back for the night in Tirupati to have darshan of Lord Venkateshwara, he might find time to meet the other leaders as well.
This is an opportunity for the TDP chief to meet Shah rather leisurely, instead of in Delhi where the Union minister would have hectic programmes.
If what claimed by the TDP leaders over Shah's phone call to Naidu is correct, he would definitely give an appointment to the TDP chief in Tirupati itself.
It would be interesting to see whether it would really happen. But whether Shah would be willing to meet Naidu is still doubtful!