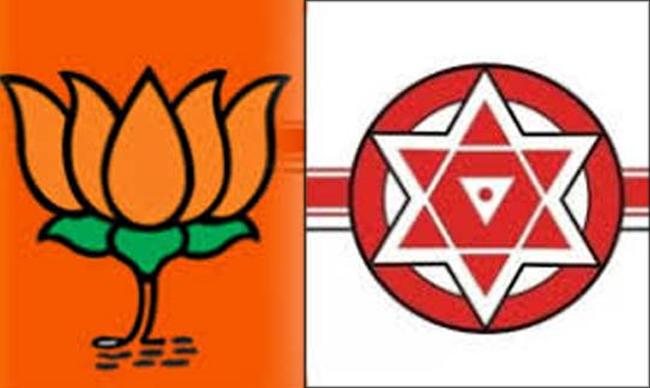 The alliance between the BJP and Jana Sena is now under scan by the leaders and even activists of the two parties.
They are engaged in blaming each other for the poor performance of the two parties.
Interestingly, the Jana Sena had fared better than the BJP in several urban areas, where election results were out on Sunday.
The Jana Sena had secured 45,438 votes in municipalities and 1,76,267 votes in the municipal corporations while the BJP could get only 40,230 votes in municipalities and 74,135 votes in municipal corporations.
In terms of percentage of votes secured, the Jana Sena bagged 4.67 per cent, while the BJP scored just 2.41 per cent.
In Vijayawada, Jana Sena spokesperson Pothina Mahesh had openly blamed the BJP for the poll debacle.
The Jana Sena alleges that the alliance with the BJP, particularly at a time when the people in the state were witnessing agitation over privatisation of Vizag Steel Plant, had cost dearly for the Jana Sena in municipal elections.
However, the BJP leaders refute these charges and blame the Jana Sena for working with the TDP against the alliance.
The BJP leaders show the campaign done by TDP leaders Chintamaneni Prabhakar in West Godavari and Vangaveeti Radhakrishna in Krishna district for the Jana Sena.
These two leaders have campaigned for the Jana Sena candidates in some pockets, which is now cited by the BJP leaders to blame Jana Sena.
With cracks appearing from both sides, it is to be seen how long the alliance between the two parties would continue.