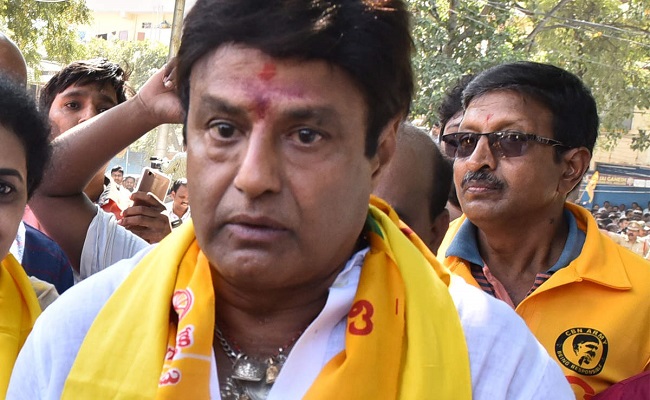 For quite some time, the YSR Congress party led by chief minister Y S Jagan Mohan Reddy has been targeting Kuppam assembly constituency represented by Telugu Desam Party president and former chief minister N Chandrababu Naidu.
The YSRC is aiming at conquering the Kuppam seat by defeating Naidu at any cost in the next assembly elections, so that it would be the end of the road for the TDP president in state politics.
The recent successes of the YSRC in all the local body elections in Kuppam, completely decimating the TDP, has given a lot of boost to the ruling party and it would definitely help the party to achieve its goal of defeating Naidu in the next elections.
Apart from Kuppam, the next target of the YSRC is Hindupur, which is being represented by Naidu's brother-in-law and senior Tollywood actor Nandamuri Balakrishna.
Hindpur is considered to be the traditional bastion of the TDP for several years because of the sentiment attached to Balakrishna's father and TDP founder N T Rama Rao. The YSRC has not been able to conquer this seat till now.
But the ruling party is hoping to defeat Balayya, too, in Hindupur in the next elections. YSRC MLC and former IPS officer Md Iqbal, who lost to Balakrishna in 2019 elections, is confident that he would defeat the actor in the next elections.
"Let Balakrishna resign from his seat and contest the by-elections again. If I cannot defeat him in Hindupur, I will quit politics and never step into Hindupur again," Iqbal challenged.
But Balakrishna, too, seems to have become alert and realised that if he cannot concentrate on the constituency, he may have to face the defeat in the next elections. The TDP's debacle in Kuppam in the local body elections has become an eye opener for him.
So, Balayya announced that soon after the completion of his ongoing film being directed by Boyapati Srinu, he would focus on the party activities and make himself available to the people of Hindupur regularly.
Not only Hindupur, Balakrishna has decided to travel to different parts of the state and rejuvenate the party. He expressed confidence that the TDP would come back to power in the state.
It would be interesting to see whether Balakrishna would be able to retain his hold in Hindupur constituency or the YSRC would gain the upper hand in the next elections.