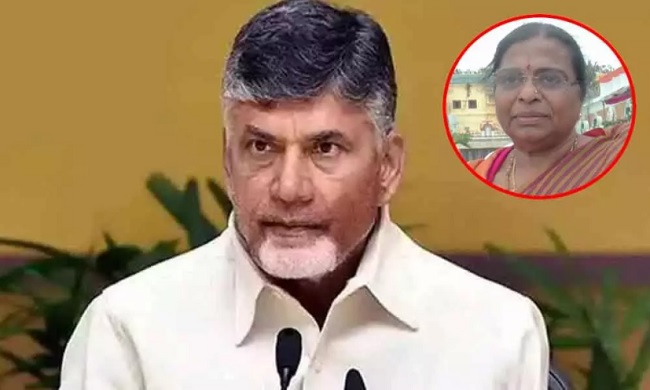 Former legislator from Chittoor and Telugu Desam Party vice president D K Satya Prabha passed away on Friday, after battling for a long time with Covid-19 and associated complications at a private hospital in Bengaluru.
It is nothing but natural that party president N Chandrababu Naidu and other party leaders express their condolences, when a party leader dies. On Friday, too, Naidu and others expressed condolences.
But the way the TDP leaders offered tributes to Satya Prabha was a bit surprising. Satya Prabha was just an MLA and she had unsuccessfully contested as an MP from Rajampet in 2019. That was all. She had never played an active role in the party.
But the TDP leaders had paid huge tributes to Satya Prabha, as if she was a big leader of the party holding top positions. There has been a flood of condolence messages from the party leaders in a big way and at the party headquarters, they put up her photo and offered floral tributes to her.
There is a reason for this over-action of the TDP leaders.
Satya Prabha was the wife of former MP D K Adikesavulu Naidu, a liquor baron, and former chairman of Tirumala Tirupati Devasthanams. For the last three decades, Adikesavulu's family had been the major source of funding for the TDP.
In every national, state and local elections, the DK family supported the TDP financially. There were also reports that Adikesavulu Naidu used to arrange chartered flights for the TDP leaders whenever they required. Adikesavulu was with the TDP till his death.
However, after the TDP's debacle in 2019 elections, Satya Prabha and his son D K Srinivas had been staying away from party activities. In a bid to appease the family, the TDP chief even made Satya Prabha as party vice-president, but she had never shown any interest.
Recently, D K Srinivas met YSR Congress party president Y S Jagan Mohan Reddy during the latter's visit to Tirumala. Srinivas requested that the Jagan government fulfil his father's dream of giving gold covering to the Tirumala temple and Jagan had obliged.
This led to the talk that Srinivas might join the YSRCP party. The family also has huge followers across Chittoor district and if he joins the YSRC, the TDP will lose a major ground in the district.
That is precisely why Naidu and the TDP leaders have gone overboard to pay tributes to Satya Prabha on her demise. This is definitely to woo Srinivas and retain him in the party, so that the TDP does not lose ground in Chittoor!
Click Here for Latest Direct-to-OTT Releases (List Updates Daily)