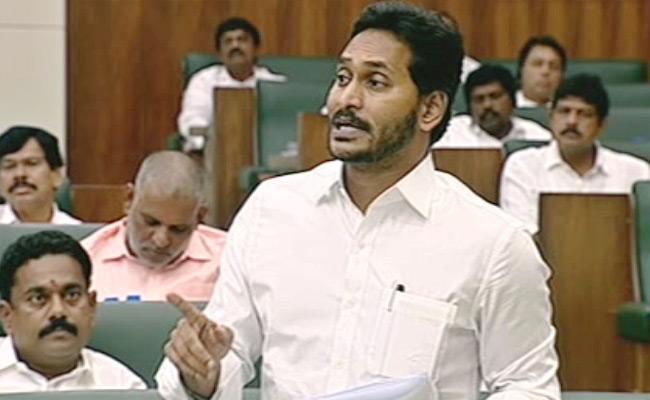 YSR Congress party president and Andhra Pradesh chief minister Y S Jagan Mohan Reddy on Monday held the previous Telugu Desam Party government led by N Chandrababu Naidu responsible for the inordinate delay in the completion of Polavaram major irrigation project on Godavari river.
Making a power point presentation on the Polavaram project in the state assembly while intervening in the discussion during the question hour, Jagan said the Naidu government had neither completed the spillway nor the upper and lower coffer dams.
"The coffer dams have to be built after the completion of approach channel and spill way. But see the intelligence of this gentleman who claims to have 40-years of experience in politics and ruled the state for 14 years. He is unfit to continue even as an MLA," the chief minister said.
He pointed out that the Naidu government had not completed the approach channel, spillway and even upper coffer dams.
"He had left gaps in the coffer dams, as a result of which Godavari water could not get diverted towards the spillway and because of the gaps in the coffer dam, it washed away the diaphragm wall," Jagan criticised.
Despite doing this mindless work, the TDP leaders are trying to defend Naidu and pointing an accusing finger at the present government.
"Unfortunately, the yellow media has been running a malicious propaganda against the government and trying to prove the wrong right," he regretted.
Jagan claimed that his government had announced a better package than the previous one towards rehabilitation and resettlement of the evacuees and said the TDP had goofed up the project economics which were being rectified.
"As assured, we have issued orders to hike the compensation to Rs 10 lakh from Rs 6.86 lakhs of the previous government with the reservoir height marked at 41.15 metres, keeping dam security in view," he said.
He claimed that of the total 1,06,006 project evacuees, 20,946 families come under the 41.15-meter reservoir level of which 14,110 were already paid a compensation of Rs 19,060 crore and for remaining, efforts are being made to pay the amount which will go directly into the bank account of the beneficiaries.
Jagan alleged that Naidu's inefficient governance had resulted in blockage of Rs 2,900 crore from the Centre, as it goofed up the project progress by accepting a special package which was not there.
"Once the rains recede, we will take up the work from November on a war-footing," he said adding that the State is trying to rectify the mistakes of the previous government.