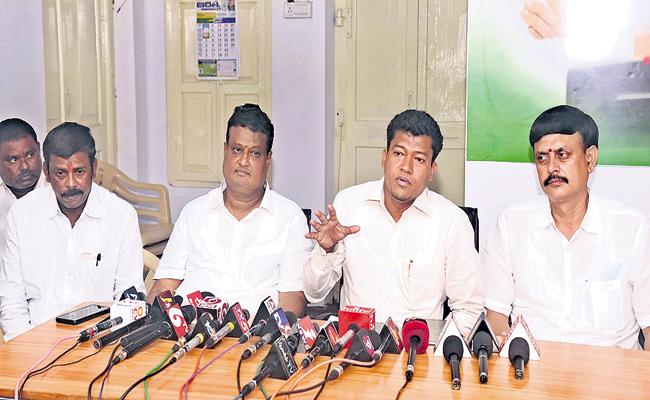 The Bharatiya Janata Party might have severed its ties with the Telugu Desam Party in Andhra Pradesh before 2019 elections, but they continue to have unholy nexus behind the screen.
This was the allegation levelled by YSR Congress party leader and Andhra Pradesh minister for fisheries and animal husbandry Seediri Appala Raju at a press conference in Srikakulam on Monday.
Reacting strongly to the open letter written by BJP Andhra Pradesh unit president Somu Veerraju to chief minister Y S Jagan Mohan Reddy on Sunday, demanding that the 'controversial' GO 217 be withdrawn immediately, Appala Raju said the BJP leader was dancing to the tunes of TDP chief N Chadnrababu Naidu.
"It is very clear from the letter that it was drafted in the Chandrababu Naidu office. It shows that the BJP continues to have the alliance with the TDP, though the both the parties claim to have parted ways in the past," the minister said.
He alleged that the TDP and the BJP were finding fault with the GO on fishermen's rights only to gain political mileage.
"It is a big joke that Veerraju has written a letter to Jagan on fishermen. Has he ever bothered to raise the issues of fishermen? He is playing dramas as per the script provided by Chandrababu Naidu," Appala Raju said.
Stating that there was nothing for the fishermen to worry about the GO, the minister said Naidu and Veerraju were only instigating them for their selfish ends.
"It is just a pilot project and it will not harm the fishermen's interests in any manner," he said.
The GO kicked up a controversy, as it proposes to put up fishing tanks, canals and reservoirs to auction, instead of allowing fishermen societies to hold their rights as before.
The TDP president described the GO 217 as a noose around the necks of the fishermen and said it would reduce them to coolies.
The state BJP chief also demanded that full fishing rights on canals, tanks and reservoirs be restored to fishermen societies and claimed that the BJP sees the move as a way to dilute the age-old societies system and hand it over to big and private players.
"The BJP suspects that the decision was taken to deliberately deny the rights of fishermen and give tanks, canals and other water bodies to big players and reduce the fishermen to coolies," he alleged.
Click Here for Latest Direct-to-OTT Releases (List Updates Daily)