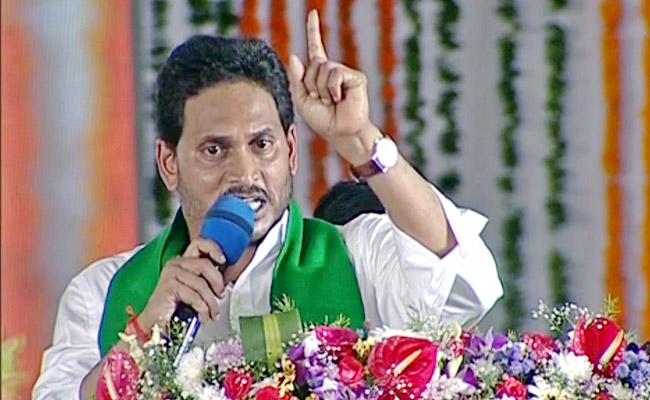 In another two weeks from now, YSR Congress party president and Andhra Pradesh chief minister Y S Jagan Mohan Reddy will be completing three years in office. He still has two more years to go to complete his full term.
Yet, the chief minister has started making election speeches for the last few days. Till recently, he had been releasing funds under direct benefit transfer scheme to the beneficiaries of various schemes by click of a mouse from his Tadepalli residence.
Now, he is going directly into the people to release money, though they are not new schemes but only implementation of the old schemes every year.
And he is choosing to address public meetings on the occasion and using the opportunity to take a dig at the opposition and seeking the blessings of the people again.
On Monday, Jagan released the funds under Rythu Bharosa scheme which has been an ongoing scheme, at Ganapavaram village of West Godavari district, where he addressed a huge public meeting.
The chief minister dedicated most of the time in attacking Telugu Desam Party president N Chandrababu Naidu and his "adopted son" Pawan Kalyan.
"During his tenure, Naidu had totally cheated the farmers. But his adopted son who helped him come to power in 2014 had never questioned him," he said.
Claiming himself to be "people's son," Jagan said he had never adopted different standards before and after the elections.
"Your bidda has done what he had said before the elections. I have the sincerity and a heart to do good for the people. That is the difference between me and Naidu," he said.
Stating that he would never cheat the people for the sake of political gains, the chief minister alleged that Naidu had promised in his 2014 election manifesto that he would waive off the crop loans.
"But later, he took off the party manifesto from the website. Yet, his adopted son had never questioned him. Now, he is shedding crocodile tears on the plight of farmers. These leaders have no moral right to speak about farmers at all," he said.
He said Naidu's adopted son had been touring districts in the name of calling on the farmers who had committed suicide, but could not find a single farmer who had not got benefits from the government.
Jagan said his party leaders were going door to door and explaining to the people how the government was implementing the promises made in the election manifesto and were taking the people's blessings.
He appealed to the people to understand the difference between the previous TDP government and that of his government of the last three years. He sought their support for the next term as well.