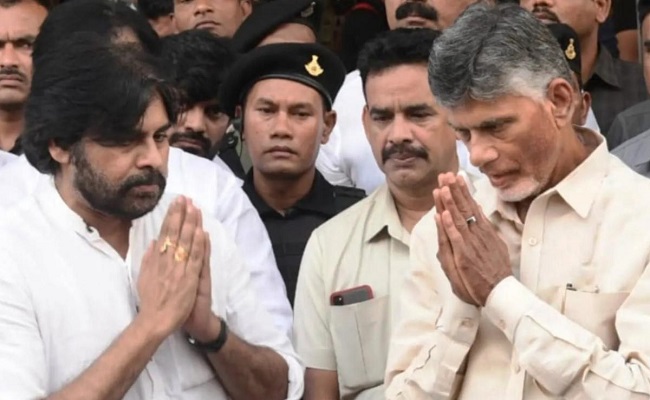 Telugu Desam Party president and former Andhra Pradesh chief minister N Chandrababu Naidu, who announced a mini-manifesto with seven promises on the occasion of his party's Mahanadu rally on May 29, is likely dump the same for the upcoming assembly elections in the state.
The proposal is being discussed in the wake of the latest announcement of Jana Sena Party chief and power star Pawan Kalyan on forging an alliance with the TDP. Apparently, Pawan Kalyan has his own set of election promises and he doesn't want them to clash with that of the TDP.
On May 29, Naidu came out with seven promises -- Maha Shakthi, Thalliki Vandanam, Yuvashakthi, Annadatha, access to drinking water, Act for BCs, and Vision 2047, which he said would change the destiny of the people of the state in the coming years.
Some of the promises include monthly financial aid of Rs 1,500 will be given to every woman in the 18-59 age group in the name of Adabidda Nidhi, annual financial aid of Rs 15,000 will be given to every mother, free travel for women in the state-run RTC buses free of cost, three gas cylinders to each woman household free of cost, unemployment allowance of Rs 3,000 to each of the jobless youth per month, Rs 20,000 to each farmer every year to meet the agriculture expenditure etc.
He named his mini-manifesto as "Bhavishyathuku Guarantee" (Guarantee to a bright future) and announced that second part of the manifesto would be released by Dasara festival in October.
Now that the TDP's alliance with Jana Sena Party has been confirmed, the TDP leadership is of the view that there is no point in having independent manifestos for both the parties and there should be a common manifesto for them.
So, for now, the TDP may not have a second part of the manifesto on Dasara. Even the first part of the manifesto will have some changes, in tune with the proposals of the Jana Sena Party.
"After discussing with the Jana Sena Party leadership, both the parties will come out with a joint manifesto, incorporating the best of both the manifestos. Some of the schemes announced by Naidu in the first part would definitely be incorporated in the common manifesto," TDP sources said.