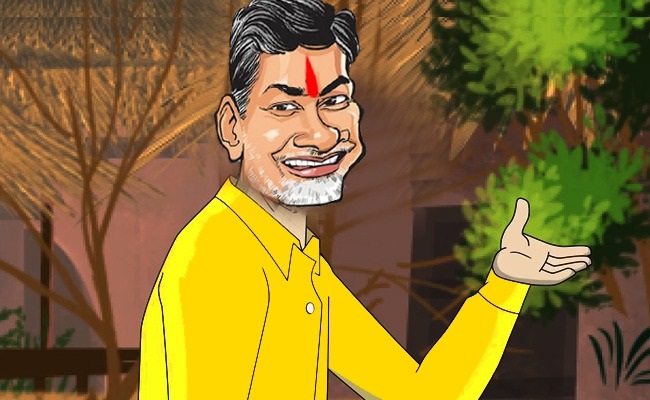 There is nothing wrong in being a Hindu in dress and look. But a sudden changeover brings many doubts.
Telugu Desam Party chief Chandrababu Naidu has decided to take the Hindutva route. He is appearing with a 'bottu' and following him, the rest of the party members are also showing themselves with Hindu identity unlike before.
There are many memes coming up on this with 'never before never after' tags.
Inside sources say that this is being implemented as a strategy after thorough brainstorming(!).
The party is firmly believing that the Hindutva wave will be inundating the entire state by next elections. In that scenario, they believe that the secular tag will not help TDP. On the other hand, they also assume that all the minority votes will be for YCP only.
"Naidu wishes to split the vote share of BJP with his Hindutva tag. So, when BJP needs a majority to form the government, it will have no choice left than joining hands with TDP", said an insider.
Ever since Naidu spoke bad about Christians a few weeks back, he didn't do any image makeover speeches. That's a conscious talk to lose secular identity and become a Hindutva party, say sources. Several Christians walked out from his party and have been making a point to condemn Naidu's talk in every meeting they hold.
Adding to this, the strategists advised CBN that a Hindutva identity may help to join hands with BJP down the line without any ideological differences.
"Right now, with Modi in power, CBN will have no chance to shake hands with BJP. But when the power shifts to Yogi Adityanath or someone else, then Naidu will have scope to associate with BJP provided he maintains his hard core Hindutva tag", said an insider.
"An aggressive stand being adopted by Naidu to emerge as the champion of Hindutva could also help him gain significantly from the emerging religious polarisation in the state for the first time and even look at teaming up with BJP going forward if an opportunity arises," political analyst Srinivasa Rao said to a News Daily.
While some are believing this as a strategy, others are showing pity on the most experienced politician's poor understanding of the politics.
"It will be a suicidal step for TDP. If the party is ready to lose the minority votes, it doesn't mean that it can easily pull the majority votes. Not all Hindus vote for Hindutva. I doubt TDP is putting itself on pyre", another analyst opined.
Click Here for Latest Direct-to-OTT Releases (List Updates Daily)