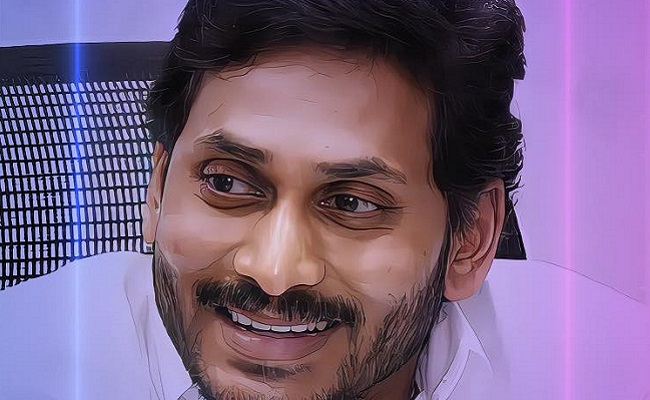 ABN Andhra Jyothi chief Vemuri Radha Krishna, popularly known as RK, seems to be losing his mental balance in his fervent attempt to defeat Y S Jagan Mohan Reddy and make Chandrababu Naidu the chief minister of Andhra Pradesh.
As the days pass by, RK is using both Andhra Jyothi daily and the ABN news channel to fabricate stories against Jagan Mohan Reddy and in favor of Chandrababu Naidu.
He leaves no room for facts in his reports, as every report appears to be tailored to serve Chandrababu Naidu.
This Sunday's news analysis by RK stands as clear testimony to his declining balance.
In his weekly column - Kotha Paluku - RK states that Jagan Mohan Reddy has emerged as a force in the country.
According to RK, the BJP national leadership wanted to undermine Delhi Chief Minister Arvind Kejriwal and therefore sought the help of Jagan in the liquor scam by making Saratchandra Reddy an approver.
This implies that even the BJP national leaders, including Prime Minister Narendra Modi and Home Minister Amit Shah, were unable to take action against Kejriwal without the assistance of Jagan Mohan Reddy!
RK also claims that Telangana Chief Minister K Chandrasekhar Rao sought Jagan Mohan Reddy's help to protect his daughter, Kavitha, from the Delhi liquor scam.
This suggests that KCR, who transformed his regional party (TRS) into a national party (BRS) and was fighting against the BJP leadership at the national level, sought Jagan Mohan Reddy's aid to safeguard his daughter!
Jagan Mohan Reddy has therefore become a crucial leader in the country, as top leaders in power are seeking his assistance!
It's not just the BJP and BRS that are pursuing Jagan for help. Jagan is even controlling the institutions!
RK states that the CBI, which was able to arrest Gali Janardhana Reddy in Bellary and bring him to Hyderabad, is unable to touch Avinash Reddy!
RK claims that the CBI's inability to arrest Avinash Reddy is not due to its inefficiency, but rather due to the power wielded by Jagan Mohan Reddy.
Jagan Mohan Reddy is now even influencing the courts, as the Telangana High Court saved Avinash Reddy and made unfavorable comments against the media!