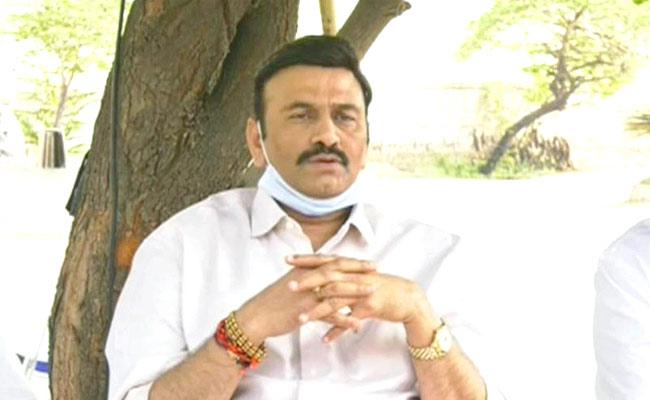 Rebel YSR Congress party MP from Narasapuram Kanumuru Raghu Ramakrishna Raju might think he is an intelligent politician and can counter the moves of the party with the support of friendly parties, media and legal systems.
So, he thought he could make it to the meeting of Prime Minister Narendra Modi at Bhimavaram on the occasion of 125th anniversary of revolutionary freedom fighter Alluri Sitarama Raju on Monday with the support of these systems.
He moved the Union home ministry, high court and all the official machineries concerned to go to Bhimavaram but the YSRC leadership was equally vehement in preventing Raju from attending the meeting at any cost for the obvious reason: party president and chief minister Y S Jagan Mohan Reddy does not want to see his face, let alone sharing the dais with him.
He could not fly by special flight or helicopter to Vijayawada or Rajahmundry and from there to Bhimavaram by road, as at every stage, he found hurdles.
He feared that he might be detained at any place; he might not be arrested, but would have been kept in a police station or guest house till the PM event was over.
After exhausting all his options, Raju finally found an opportunity to reach Bhimavaram.
When he came to know that Union tourism minister G Kishan Reddy would be travelling by Narsapur express from Hyderabad to reach Bhimavaram, Raju, too, booked his ticket by the same train. He thought it would be safer to travel along with Kishan Reddy by train and reach the event venue.
While Kishan Reddy was to board the train at Secunderabad, Raju planned to board the train from Lingampalli. But after he got into the train, he came to know that Kishan Reddy dropped his train journey plan and was flying to Vijayawada by flight the next morning.
At the same time, he noticed that some unknown youngsters got into his bogey and were looking suspicious. Raju felt something fishy.
So, when he realised that he couldn't go to Bhimavaram hiding behind Kishan Reddy and there are chances of miscreants creating trouble for him, he quickly got down from the train at Begumpet and returned to Delhi next morning.
So, why did Raju's plan backfire? It was the strategy of YSRC top leadership, which was virtually shadowing him.
The moment it realized that Raju was planning to travel along with Kishan Reddy, the Jagan government contacted the Union minister and requested him to cancel the train journey. Instead, it offered to arrange a special flight for him the next morning. Kishan Reddy was more than happy.
At the same time, YSRC leadership sent some party workers to get into the train to create nuisance for Raju, forcing him to drop the travel.
In any case, Raju wouldn't have attended the Modi event, as the Jagan government ensured that his name is not there in the protocol invitees' list!