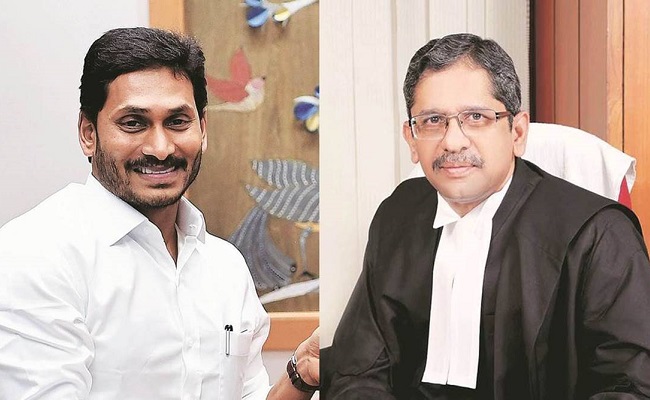 There is curiosity all over in Andhra Pradesh today, with people of all hues eagerly waiting to watch Chief Minister Y S Jagan Mohan Reddy meeting Chief Justice of India Justice N V Ramana in Vijayawada.
This is the first visit of the chief justice to his home state after he assumed charge early in 2021. He would be in office till August 2022.
Justice Ramana and Chief Minister Jagan Mohan Reddy have differences and the chief minister had written a letter to then CJI Justice Bobde against Justice Ramana.
It is also alleged that Justice Ramana is influencing some judges in AP and TS high courts against Jagan Mohan Reddy.
Though the charges are not proved, Justice Ramana became the CJI and currently on a visit to his home state.
Chief Minister Y S Jagan Mohan Reddy too is on a visit to his home districts and is scheduled to return to Vijayawada in the afternoon.
The chief minister is hosting high tea in honour of Chief Justice Ramana at Indira Gandhi Municipal Corporation Stadium in Vijayawada on Saturday evening.
The officials are busy with the preparations for the high tea, while some ministers are officially designated to accompany Justice Ramana.
All eyes are now on those few moments when chief minister Jagan Mohan Reddy and chief justice Ramana meet and exchange pleasantries.
Perhaps, this is the for the first time that these two are seeing eye to eye in the long career.