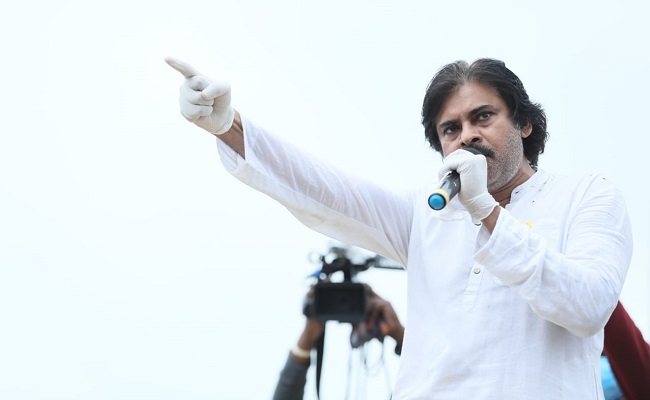 The forthcoming by-elections to Tirupati parliamentary seat seem to be the end of honeymoon between the Bharatiya Janata Party and Jana Sena Party led by power star Pawan Kalyan.
The Jana Sena chief is apparently angry with Andhra Pradesh state BJP unit president Somu Veerraju to announce that the BJP would contest the Tirupati LS by-elections and Jana Sena would support it.
What has angered Pawan more was Veerraju's statement that the former had agreed to drop out from the contest during his meting with BJP national president J P Nadda during his recent visit to New Delhi. In fact, Nadda announced that a committee of both the party leaders would decide the right candidate.
Though Pawan has not opened up on the issue till now, he reportedly expressed his unhappiness over the state BJP chief's statement at a meeting on Sunday.
The Jana Sena chief has reportedly appointed an independent committee of the party leaders to choose the right candidate for Tirupati LS by-polls.
The Jana Sena leaders are pointing out to the fact that the BJP, despite playing its Hindutva card in the temple town, has little strength to win the seat.
In 2019 Lok Sabha elections, out of more than 13 lakhs polled in the constituency during these elections, the BJP got only 16,125 votes (only 1.23 per cent), worse than NOTA votes of 25,781 (1.96 per cent).
It may be mentioned that Jana Sena had allocated the Tirupati seat to BSP candidate in the last elections, and he got 4,000 votes more than the BJP candidate.
"How can the BJP now claim that it has strength to win the Tirupati seat?" a Jana Sena party leader asked.
Compared to the BJP, the Jana Sena has better chances to put up a tough fight, even if it cannot win the seat.
"Tirupati assembly seat was represented by Chiranjeevi in the past and if Pawan Kalyan fields his party candidate and campaigns, he can attract huge chunk of votes," the Jana Sena leader said.
Since Tirupati LS seat is reserved for SCs, Pawan has to choose a strong Dalit candidate to fight the elections. It remains to be seen what the BJP leaders would say on Jana Sena stand.