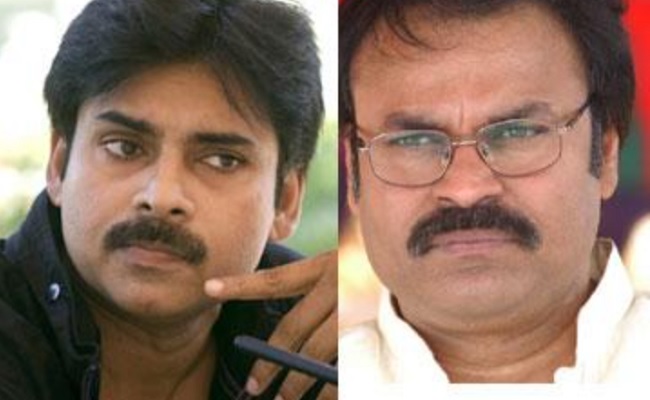 It looks like all is not well between power star and Jana Sena Party president Pawan Kalyan and his elder brother Naga Babu, at least when it comes to taking a stand on Andhra politics.
While Pawan has been reacting cautiously and softly over the aggressive attack by the YSR Congress party government on the Telugu Desam Party leaders, Naga Babu is speaking in a tone defending the Jagan government.
On Saturday, Pawan Kalyan reacted strongly to the arrest of TDP legislator and former minister K Atchen Naidu by the anti-corruption bureau authorities in the multi-crore Employees' State Insurance scam.
"I wonder whether the arrest was made because Atchen Naidu really indulged in corruption or it was an act of vengeance against him?" he asked.
Pawan said the Jagan government should prove its sincerity by clarifying on the arrest of Atchen Naidu.
While making it clear that Jana Sena would oppose corruption in any form and whoever was responsible for the same, the actor-turned-politician said the timing of Atchen Naidu's arrest, just a few days before the assembly sessions, raised several doubts.
He also found fault with the government for not following rules in the arrest of an elected people's representative.
He demanded that not just ESI scam, the government should order a probe into all the scams that have surfaced even in the present regime.
On the other hand, Naga Babu's tweet was completely in difference with Pawan's statement. He wondered why the TDP leaders and their favourable media houses were raising such a hue and cry over the arrest of a scamster.
He reminded that during the TDP regime, the same party leaders got a Jana Sena leader arrested and assaulted party workers for making a comment on a woman TDP leader.
"Were Jana Sena workers not human beings? We never forget what you did to our Jana Sainiks. Karma has no menu. You get what you deserve. The TDP is paying penalty for its mistakes," Naga Babu said.