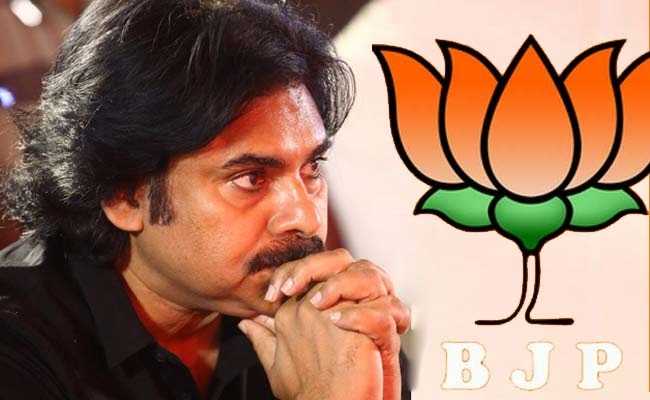 It is more or less confirmed that power star and Jana Sena Party chief Pawan Kalyan will snap ties with the Bharatiya Janata Party once and for all, though he will wait for the saffron party to take the first step in that direction.
While Jana Sena Party decided against fielding the candidate in the by-elections to Atmakur assembly seat in Nellore district, the BJP has unilaterally decided to field its candidate without even consulting Pawan.
Sources said Pawan is of the view that there is a secret understanding between the YSRC and the BJP. The saffron party is fielding the candidate despite knowing that YSRC candidate Mekapati Vikram Reddy will walk away with a thumping victory, only to send a message to the rest of the state that the YSRC is invincible. If it is a unanimous election, YSRC cannot claim any credit for the same.
The frequent visits of Jagan to Delhi and the way the BJP central leadership is doing all favours to him indicate that both YSRC and BJP are enjoying a bonhomie.
Even in the state, the local leaders are making non-serious criticism against the Jagan government, he suspects.
That is why Pawan told reporters on Friday tha he did not enjoy good relations with the BJP leaders in Andhra Pradesh, though he has well-wishers in BJP national leadership.
He said he had no information about the visit of BJP national president J P Nadda to Rajahmundry to attend Godavari Garjana programme on June 6 and so, he won't be attending the same.
"There is no question of making any attempt to meet Nadda," he said.
Pawan has also not evinced any interest in the statements of the BJP leaders that he would be declared as the CM candidate of the Jana Sena-BJP alliance in the next elections.
"He feels that these statements are only to embarrass him before the people and make him a scapegoat in the YSRC-BJP game," a Jana Sena leader observed.
At the same time, Pawan said he was committed to his statement that he would not allow the anti-Jagan vote to split in the next elections.
"It is a clear indication that he is getting closer to the TDP," sources said.