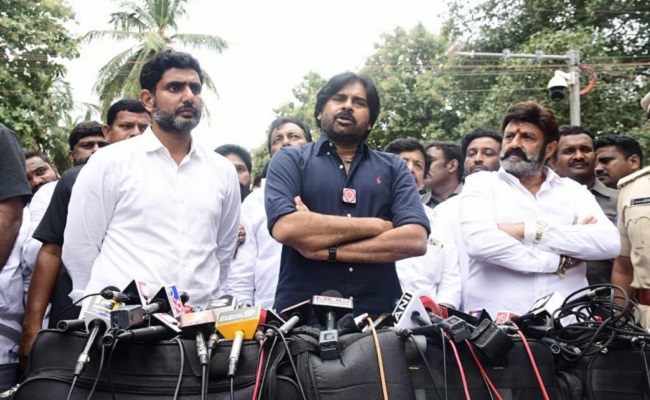 It is now official. Jana Sena Party led by Tollywood power star Pawan Kalyan will have an alliance with the Telugu Desam Party, irrespective of whether the Bharatiya Janata Party will join the alliance or not.
This was announced by Pawan Kalyan himself after meeting TDP president and former Andhra Pradesh chief minister N Chandrababu Naidu in Rajahmundry central jail on Thursday afternoon.
"In the coming elections, the Jana Sena Party will join hands with the TDP and fight together. It is up to the BJP to decide whether it wants to join hands with us or not," Pawan Kalyan told reporters after the meeting.
Stating that his meeting with Naidu and Lokesh was very crucial politically, the power star said there was a need for collective effort by like-minded people to put an end to the atrocious rule of Jagan Mohan Reddy.
"I would not have joined hands with Nandamuri Balakrishna and Nara Lokesh politically had the Jagan Mohan Reddy government in Andhra Pradesh was performing well. At the most we would have met personally, but we have now decided to go together politically," he said.
Describing Naidu's arrest as a political vendetta, Pawan Kalyan said it was unfortunate that he was implicated in false cases and sent to jail.
"I might have differed with Naidu in the past on certain policy decisions, such as on special category status, but not personally. We may still differ on certain issues, but it is time we come together to pull down the Jagan Mohan Reddy government," he said.
Pawan Kalyan said he had never underestimated the strengths and efficiency of Chandrababu Naidu.
"Such a leader was arrested following the charges levelled by an economic offender. Jagan is already in neck-deep corruption and he wants to smear the mud on others," he criticised.
On the relations with the BJP, the Jana Sena Party chief said he had been in alliance with the BJP only on the latter's request.
"I went to Delhi to meet the top BJP leaders like Prime Minister Narendra Modi and Union home minister Amit Shah only at their call," he reminded.