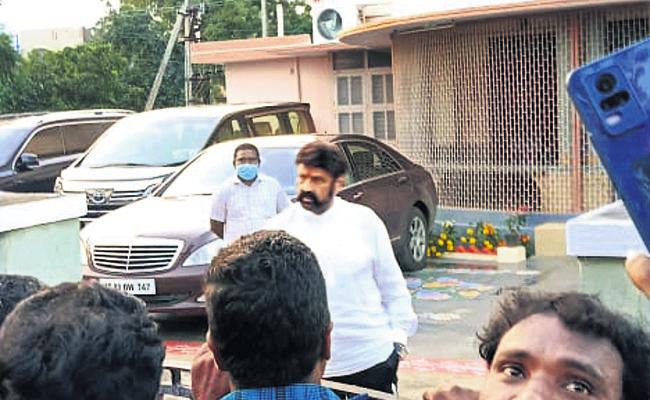 Many say that there are no permanent enemies or friends in politics. Same is the case with relatives as well. The scene in Nandamuri family looks almost a replica of this statement.
Both Nara and Dabbubati families were opposite poles at the beginning. But they have united to dethrone their father in law. Again they got seperated with differences. Purandeshwari joined the Congress and became a Minister. She helped many people of her 'group' in that region.
Once upon a time Balakrishna slapped his thigh in Karamchedu against brother in law during a campaign. At present his sister is in BJP and he is in TDP. She didn't get due importance in BJP in the last elections. She was defeated from where she contested.
The plight of Balayya's brother in law Daggubati Venkateswara Rao in YCP is also not so bright. At this juncture Balayya went to Karamchedu on the occasion of Sankranthi. Regularly he goes to Kuppam along with Chandrababu and other family members. But this time, the entire family ignored visiting Kuppam.
So Balakrishna might have chosen to go to Karamchedu and spent some hilarious moments there. By seeing this, should we consider that the attempts to unite the social forces are started from TDP's side this way, to face Jagan Mohan Reddy in the coming elections? Maybe partly yes.
But the bottom line is Nandamuri, Nara and Daggubati families are highly flexible in nature as far as their power mongering is concerned. They never show their rigid and stubborn personalities. Ultimately they want to enjoy power and in the process they never mind 'backstabbing' any one if needed, or embracing the same person if required.
Well, some may say this is purely a family trip but not anything political. In that case, why did he choose to visit this place only this year? Why didn't he go to Kuppam along with Chandrababu as a regular practice? Reading between the lines of the situation exposes many equations.
Many are saying Nandamuri Balakrishna is shameless to go to the same place as a guest where they slapped their thigh, and Daggubatis are mindless to invite them.
Balakrishna's movie 'Mahanayakudu' was a big flop at the box office but in real life as well, he is trying to play the same role with his political moves in order to make his viyyankudu sit on the CM's chair again. Politics is a wise game. Showing off certain things openly in public dilutes everything and leads to trolling.
Kiran Sharma