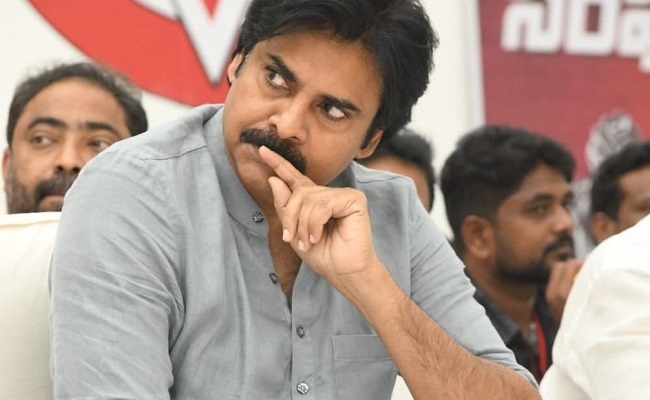 Pawan Kalyan is known for emotional rhetoric without any basic understanding of the system or situation.
The film "Akhanda" has no compliant from the fans or producers that the ticket prices in AP affected their film. They have been celebrated humongous success everywhere.
But Pawan Kalyan wishes to make it a fuss by creating an artificial importance for himself stating that the Jagan Mohan Reddy is wishfully targeting his films. He continues the sequel to his speech during the pre release function of 'Republic'.
He alleges that Jagan Mohan Reddy is attacking the financial roots of him by creating troubles for his films. He reiterates that he wouldn't be afraid even if his films are stopped to screen in the state of Andhra Pradesh but will screen to the people for free.
Why this sudden drama? This is nothing but preparing his fans that he has no option but releasing the film on OTT only because of Jagan Mohan Reddy.
But the fact is that the film can earn good amount from OTT with the direct release on its platform. If it releases in theaters and receives negative talk, there wouldn't be any collection from Monday. Moreover, the amount the film receives against OTT will be slashed. In the process Pawan agreed to "Bheemla Nayak" producer to sell the film to OTT and breakeven there.
To give a cover up to his decision, he is throwing the mud on Jagan Mohan Reddy.
On the other hand, how can he say that he will screen his film for free? Watching on OTT is not free. One has to have subscription. Moreover it is producer's money. How can he lament as if he is doing justice to the producer when he himself squeezed shocking remuneration from him?
Had Pawan Kalyan reduced his remuneration for "Bheemla Nayak", the producer wouldn't be in trouble and think about direct OTT release. The greed of Pawan is the root cause of this problem, but he is mudslinging on Jagan Mohan Reddy.
Katasani Ramesh