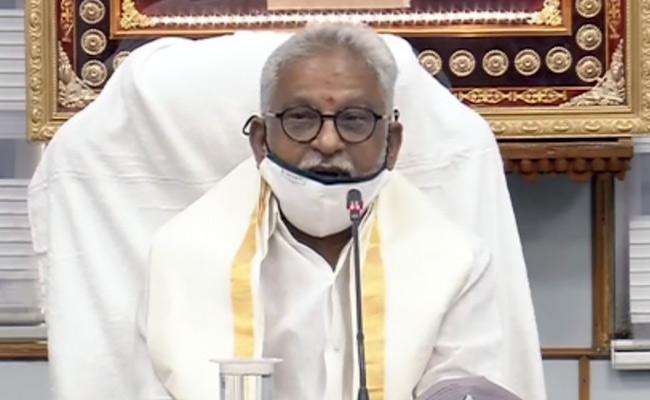 Tirumala Tirupati Devasthanams chairman Y S Subba Reddy on Friday dismissed the allegations of any scam in hiring Jio Network of Reliance Industries for the release of online darshan tickets for pilgrims in Tirumala.
Reacting to the reports that appeared in a section of media alleging irregularities in using Jio Network for release of online darshan tickets, Subba Reddy said it was nothing but a malicious campaign against TTD made by some vested interests.
In a statement, the TTD chairman said in order to overcome the technical snags in online booking, the Jio company had come forward to offer technical as well infrastructure support worth nearly Rs 3 crore to the TTD free of cost.
He said keeping in view the health security of pilgrims as well as locals, our employees, the TTD had taken the decision to release the Special Entry Darshan Quota release and Slotted Sarva Darshan tokens in Online.
Following the complaints and feedback from pilgrims over the technical issues in online bookings in the months of August and September, the IT team of the TTD, with the help of the Tata Consultancy Services, explored all the technical possible solutions to overcome these performance issues.
"When we approached Jio, Amazon, Abhi bus, Book my Show and other agencies, Jio came forward to offer free service. We could overcome the technical issues and all the tickets were booked in a smooth manner. The cloud management support worth Rs 3crore was provided by Jio free of cost," Subba Reddy said.
The pilgrims were redirected to Jio Mart subdomain from tirupatibalaiji.ap.gov.in website.
"The TTD sub-domain could not be created due to time and technical constraints. From next month release onwards, Jiomart will not appear and the domain name will be tirupaitbalaji.ap.gov.in only," the TTD chairman said.
He said the act of politicising every good deed of the TTD without knowing the facts and trying to malign the reputation of institution by some vested interests is seriously condemnable. He appealed to devotees not to be taken away by such baseless allegations.