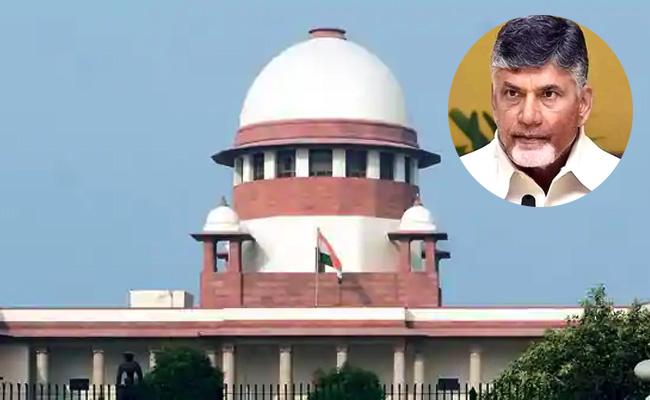 The Supreme Court on Tuesday refused to pass any interim relief on a plea filed by Telugu Desam Party supremo and former Andhra Pradesh Chief Minister Chandrababu Naidu, who is behind the bars in connection with the alleged Skill Development Corporation scam case.
A bench comprising Justices Aniruddha Bose and Bela M .Trivedi adjourned the matter to October 9.
In the meantime, the bench asked the state government to place before it compilation of all documents filed before the Andhra Pradesh High Court.
Senior advocate Harish Salve, appearing for the Telugu Desam Party (TDP) chief, said that enquiry against Naidu could not have been conducted without getting sanction from the Governor of the state.
He contended that Section 17A of the Prevention of Corruption Act, which disables police from conducting any enquiry or investigation against a public servant except with prior approval, was introduced to prevent abuse of the criminal procedure.
Senior advocate Abhishek Manu Singhvi added that every enquiry into allegation "where the alleged offence is relatable to any recommendation made or decision taken by the public servant" requires a prior sanction.
In the last hearing held on September 27, Justice S.V. Bhatti of the Supreme Court had recused himself from hearing the matter.
Later on the same day, a bench headed by the CJI D.Y. Chnadrachud did not pass any directions for urgent hearing on Naidu's plea by a different bench or grant him any interim relief.
Senior advocate Sidharth Luthra had pleaded that the former Andhra CM was being "looped in FIRs after FIRs" only because of the upcoming 2024 general polls.
Naidu has approached the Supreme Court by filing a Special Leave Petition after a single judge bench of Justice S. Reddy of the Andhra Pradesh High Court on September 22 dismissed his petition to quash the FIR registered against him and to set aside his judicial remand.