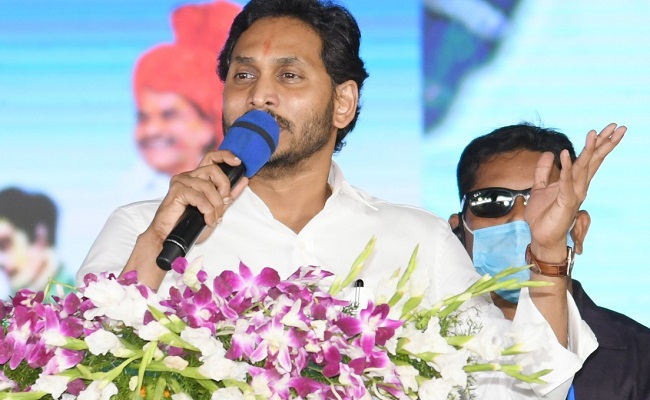 YSR Congress party president and chief minister Y S Jagan Mohan Reddy, who has been refraining from making harsh comments against his political opponents in public, suddenly changed his gear on Thursday.
Addressing a public meeting at Narasaraopet in the newly-formed Palandu district, Jagan used strongest words to attack Telugu Desam Party president N Chandrababu Naidu and Jana Sena Party president Pawan Kalyan.
"Chandrababu Naidu and Pawan Kalyan are a gang of dacoits, who are desperate to come to power so that they could loot the state. This dacoits' gang is taking up a smear campaign against the YSR Congress party government by sitting in Hyderabad," he said.
Going further aggressive, the chief minister said Naidu and his pro-TDP media were devils in the garb of human beings.
"They looted Andhra Pradesh and pushed it into debt trap. Now, they are slinging mud at us," he said.
Referring to the reports carried by the yellow media about his meeting with Prime Minister Narendra Modi in New Delhi, Jagan said these media had campaigned that Modi had pulled him up during the meeting.
"Only me and Modi were there in the hall. Where are these media? Were they hiding under the sofa and heard our conversation?" he asked.
Stating that he was fighting against demons like Mareecha, Jagan said all those who were in the garb of the yellow media were part of the dacoit gang.
"The TDP is crying that it won't be able to get even deposits. It joins hands with whatever party it wants and snaps ties with them whenever it wants," he said.
He said the TDP and Jana Sena leaders visit Andhra Pradesh like guests and make wild allegations against the government.
"If they think the pro-government vote is going to split, they fight the elections separately. If their rival party is in power, they want to fight together so as to prevent anti-establishment vote," he criticised.
The chief minister said this gang of dacoits had no other agenda but to come to power by hook or crook. They don't have any concern for the welfare of the people, Jagan added.