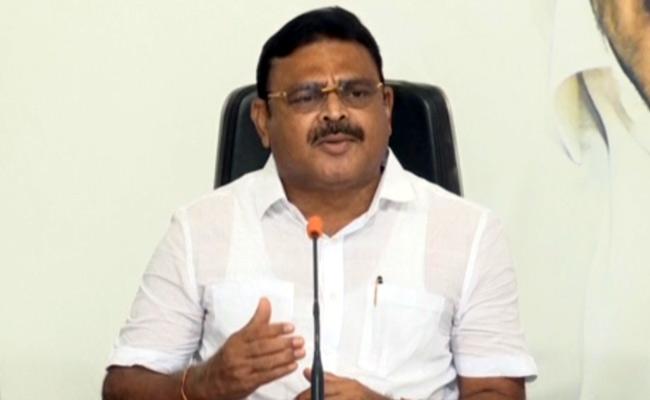 For the last two days, Telugu Desam Party president and former chief minister N Chandrababu Naidu has been fretting and fuming at the police for not giving him permission to conduct roadshows and rallies at Kuppam.
Naidu has been harping on one issue: when he was the chief minister, he had freely allowed YSR Congress party president Y S Jagan Mohan Reddy to conduct padayatras and take out rallies, which helped the latter to come to power.
He is crying foul as to why the Jagan government has been creating hurdles for him to tour the state and conduct roadshows. So, he has been creating ruckus in Kuppam and is hell bent on creating rallies.
YSRC spokesman and state irrigation minister Ambati Rambabu gave a fitting reply to Naidu.
"There is absolutely no comparison between the rallies being conducted by the TDP chief at present and Jagan in the past. The padayatra or public rallies taken out by Jagan were systematic with utmost discipline, Naidu's rallies were chaotic and unorganized," Ambati said.
He said there were no incidents of any stampedes, let alone deaths during the Jagan's rallies.
"On the other hand, Naidu has not taken any such care and instead, he tried to gain political mileage by holding meetings in narrow lanes leading to stampede deaths," he said.
Taking a dig at TDP Chief for violating the orders at Kuppam, he said that Naidu unnecessarily created a ruckus and provoked his party cadre to rebel against the police, which is highly deplorable.
"Why has he not a learnt lessons from the previous incidents of stampede deaths during Godavari Pushkaralu," he asked.
Defending the government order, Ambati said it was meant to safeguard the public and regulate gatherings but was not aimed at scuttling Opposition parties of the State in any way.
"There is question of rolling back the GO, which will be applicable to all political parties and YSR Congress Party is not exemption. It is also meant to streamline the conduct of public meetings and rallies of all political parties to avoid recurrence of stampede that happened at Kandukuru and Guntur," he said.
Reacting to Jana Sena's stand on the GO, he said that Pawan Kalyan, who remained a mute spectator over the stampede deaths in Kandukuru and Guntur, was making unnecessary remarks against the chief minister for bringing the GO which is meant for safeguarding the people and regulating public gathering.