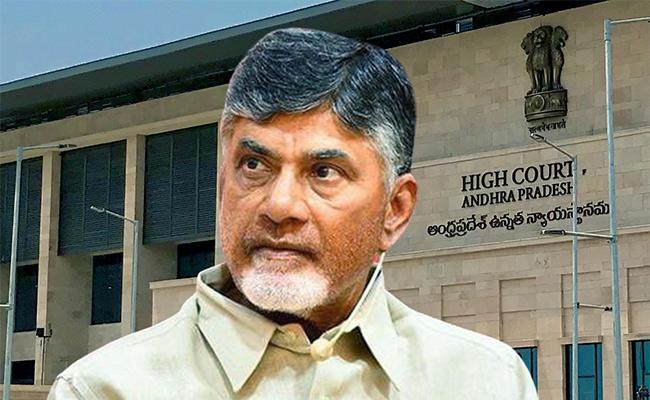 At last, Telugu Desam Party president and former Andhra Pradesh chief minister N Chandrababu Naidu on Monday got the regular bail from the state high court in the alleged Rs 371 crore skill development corporation scam being probed by the Crime Investigation Department of the state police.
Acting on a bail petition filed by Naidu and hearing the arguments on both the sides, the high court bench headed by Justice Tallapragada Mallikarjun Rao announced that the four-week interim bail granted to Naidu on medical grounds since October 31 would be converted into a regular bail with effect from November 29.
In a 39-page judgement, Justice Mallikarjun Rao ordered that Naidu could be be released on regular bail on the bail bond already furnished by him in respect of this case, while obtaining the interim bail.
The judge said it was evident from the records that Naidu had been shown as an accused in the case one-year and ten-months after the registration of the case in the alleged crime.
"The case against him was filed just before his arrest. There is no indication on the record that, during this period of one year and ten months, the petitioner (Naidu) interfered with the investigation. The prosecution has not made any such claim either," the judge said.
He said the earlier conditions imposed by the court while granting the regular bail – that he should not make any public comments relating to the case, organise or participate in public rallies and meetings and appearing in the media or make statements, would now be relaxed from November 29.
"Placing such conditions will have an impact on the electoral prospectus of the petitioner's political party," the judgement said.
He also asked the TDP president to place the details about his treatment and submit all medical record before the ACB special court, Vijayawada on or before November 28, when the interim bail period ends.
The TDP president was arrested by the Crime Investigation Department of Andhra Pradesh police on September 9 at Nandyal for his alleged involvement in a scam in the AP Skill Development Corporation during his Telugu Desam Party's regime from 20014 to 2019.
The CID alleged that Naidu was the primary accused in the case, allegedly involving the transfer of Rs 371 crore of government funds to shell companies.
He had been sent to Rajahmundry central jail on judicial remand on the night of September 10 and it was extended from time to time till October 31, when he was released on interim bail on medical grounds as per the high court order.
YSR Congress party leader and state irrigation minister Ambati Rambabu said Naidu was not given a clean chit by the court but was granted only bail.
"There is no need for the TDP to rejoice, as the court has not given him a clean chit in the skill development case," Rambabu said.