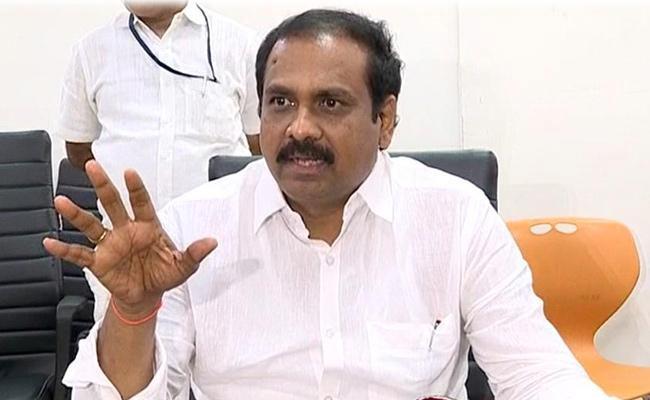 Tirupati by-election is coming up. The TDP leaders have campaigned enough with many allegations on the ruling party.
It is known that Lokesh Naidu has demanded YS Jagan Mohan Reddy to come and pledge at Alipiri that he is no way the part of YS Vivekananda Reddy's murder.
Addressing Lokesh Naidu, The Agriculture Minister of AP Kurasala Kannababu said in a Press Meet, "You should pledge that your father didn't backstab NTR and took away his party. You should pledge that your father in law Balakrishna hasn't openly fired his gun at his residence on anyone and tried to escape the law later. You should promise that your father is not responsible for the 29 deaths that happened during the Godavari Pushkarams. You should pledge that your father didn't house arrest his younger brother Rama Moorty Naidu with iron chains. You and your father should do all these pledges".
He also continued, "Is Lokesh mindless to ask YS Jagan Mohan Reddy to pladge that he is not the reason for his uncle YS Vivekananda Reddy's murder? The case is with the CBI now. Can the AP government put any hand in this? Is Lokesh not informed about this? He is like a Drama Company guy. His father plays a drama stating that someone pelted stone on him. Lokesh comes on the next day and talks nonsense about pledging about something that is in the hands of CBI".
Kannababau also clarified, "It was Chandrabbau who said that he wouldn't allow CBI to enquire on anything that happened in his state when he was the CM. But YS Jagan Mohan Reddy made it clear that CBI can investigate any issue in the state when they wish to do so. That's the difference between the two. Even the Antarvedi chariot burning case is also given to CBI. That's the transparent nature of YS Jagan Mohan Reddy".
Minister Kurasala Kannababu has spoken about several other aspects surrounding the allegations made by the father and son.
Click Here for Latest Direct-to-OTT Releases (List Updates Daily)