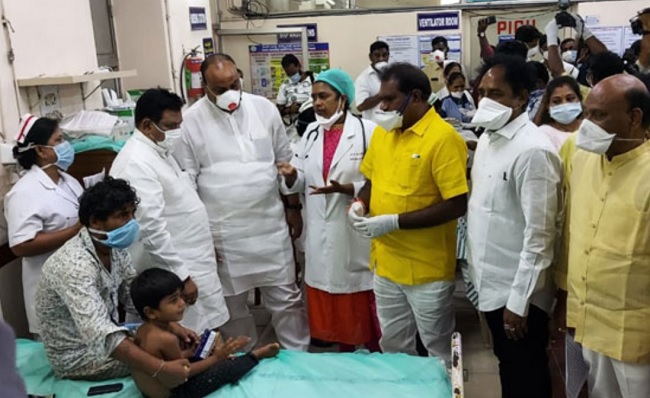 YSR Congress party president and Andhra Pradesh chief minister Y S Jagan Mohan Reddy displayed unusual magnanimity by announcing ex gratia of Rs 1 crore to each of the families of the deceased in the Visakapatnam gas leakage mishap.
The GO was also issued on Friday. By all means, the relief package was unprecedented in history of the country as no state government had ever made such an announcement in the past.
Initially, there was nothing for the opposition parties to criticise – whether it was the Telugu Desam Party or the Bharatiya Janata Party or Jana Sena.
In fact, the Andhra Pradesh Congress party had withdrawn its media statement within an hour, as it had demanded only Rs 20 lakh ex gratia to each of the victims' families.
But, the TDP has to do something to gain political mileage.
On Saturday, senior TDP leaders Nimmakayala Chinna Rajappa, K Achen Naidu, Nimmala Rama Naidu, Ch Ayyanna Patrudu and others called on the people who were undergoing treatment in King George Hospital.
Achen Naidu said Jagan's announcement had given little consolation to the families of the gas leakage victims.
"He announced Rs 1 crore as ex gratia, but he has not clarified whether the money would be given directly by the government or from the compensation given by the LG Polymers," he said.
He demanded that if the company has to give the compensation, then the government should ensure that each victim's family should be given Rs 10 crore as ex gratia.
This looks completely mad demand. The chief minister has already announced that the ex gratia was from the state government, irrespective of whether the company gives any other compensation or not.
The Jagan government also issued a GO on Friday itself, releasing funds from the CM Relief Fund.
What more clarification does the TDP leaders need? It is pretty evident that they are putting forth demands only for the sake of politicking!