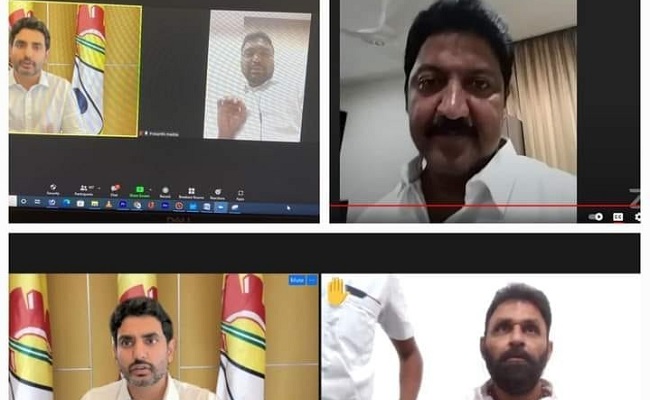 Lokesh Naidu planned for a zoom meeting with the failed tenth class students today. He wanted to project the present situation as worse as possible by interacting with them.
As Lokesh announced that he was going to talk with the students, Devender Reddy, the YSRCP leader, gathered a few students at the YSRCP office and got the logins.
As and when the login was given, YSRC social media in-charge Devender Reddy appeared in the guise of a parent or guardian of a child. Lokesh didn't recognize him immediately but allowed him to speak.
Devender Reddy questioned, "Is it right to politicize everything playing with the lives of poor children? Is this the only activity of you and your father?".
Lokesh got shocked and immediately responded stating that you may like some political party but this is not the way to speak.
Within no time, Vallabhaneni Vamshi and Kodali Nani also appeared in other handles which disturbed Lokesh. No sooner did he saw Vallabhaneni Vamshi and Kodali Nani, he signed out of the zoom meeting.
Later Lokesh lamented that the YSRCP leaders had come with fake ids to disturb the zoom meeting.
When the press asked about this, Kodali Nani replied, "The student is my nephew and why can't I speak as his guardian? I was not allowed to speak at all. Lokesh ran away as soon as he saw me".
Nani also explained- "The students have a chance for supplementary. They can prepare well and write the failed subjects. This all happened as there were no regular classes for two years and the poor students had no opportunity to buy gadgets for online classes".
It is known that Pawan Kalyan demanded the government to pass all the failed students by giving grace marks.
To this Nani replied, "Why run classes and conduct exams in the first place? Let the students play at their homes and we pass every student every year. With this all the students in the state will become Pawan Kalyans".
On a whole Lokesh's zoom meeting has turned out to be political ragging which has shown him as a weak wicket again.