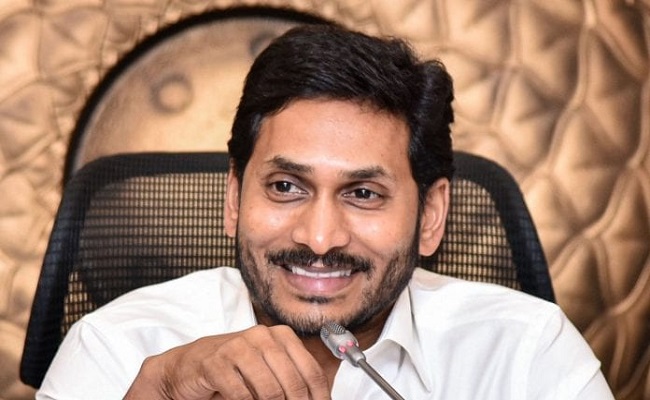 TDP president N Chandrababu Naidu's latest challenge to YSRCP president and Andhra Pradesh CM Y S Jagan Mohan Reddy for holding fresh elections to the state assembly on the plank of three capitals issue seems to have no takers from the ruling party.
The YSRC government is firm on its decision to shift the administrative capital to Visakhapatnam and judicial capital to Kurnool, while retaining Amaravati as the executive capital.
Since people have given a massive mandate to Jagan in the last elections, there is absolutely no need to respond to Naidu's warnings and ultimatums.
That is precisely why the TDP leaders are continuing to provoke the ruling party leaders despite the fact that Jagan's cabinet colleagues have strongly rebutted Naidu's hollow talk.
On Tuesday, senior TDP leader and former minister Yanamala Ramakrishnudu demanded that Jagan and the ruling YSRCP leaders should come forward to face the challenge thrown to them by the former chief minister.
Ramakrishnudu said Jagan and his cabinet colleagues have developed a fear complex about facing the elections just because of the increasing unrest among the people against their government.
From the beginning, Jagan Reddy adopted destructive policies rather than development-oriented programmes.
"It is ridiculous on the part of the YSRCP to kill Amaravati when the Ministers were talking about comprehensive development of all the 3 regions in the State. The ruling party should realise that the question of caste, region or religion would not arise but the overall development of the State could be achieved with Amaravati as capital," he said.
Stating that no development took place in Rayalaseema in the last one year, Ramakrishnudu said that the CM was only cheating the people of Seema districts by promising Judicial Capital in Kurnool.
"Actually, this is not in the hands of the AP Government. The AP High Court was established in Amaravati only after an order was issued by the President of India in consultation with the Supreme Court," he said.