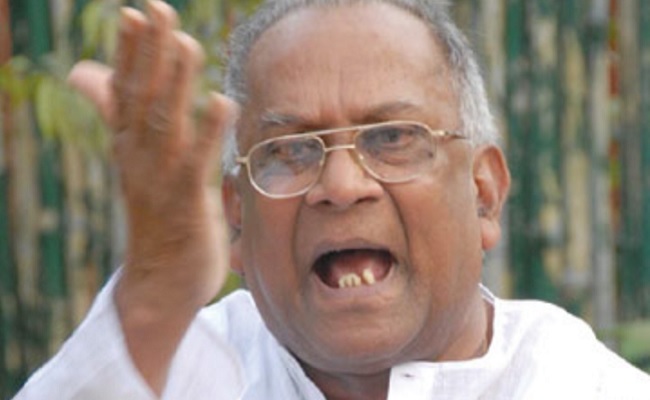 Kapu reservation issue, which was taken up by former minister and firebrand leader Mudragada Padmanabham from East Godavari, who later abandoned the same, is now back in the Andhra Pradesh politics.
With Jana Sena chief and actor Pawan Kalyan openly raising the issue of injustice done to the Kapus and their sub-castes and calling for their unity, the issue of including them in the OBC quota and extending them reservations has once again come to the fore.
Former MP from Narasapuram in West Godavari district Chegondi Harirama Jogaiah, who has been lying low for quite some time, has now grabbed the issue after Pawan Kalyan raised their cause and is planning to use it for the revival of his own image in the state politics.
On Monday, Jogaiah announced that he would step up the movement for Kapu reservations all over again.
He said he was soon going to launch a post-card movement demanding reservations to the Kapus in education and employment.
"One person from each family of Kapus and at least 1,000 persons from each constituency would write letters to chief minister Y S Jagan Mohan Reddy and bring pressure on him to provide reservations to Kapus," he said.
Jogaiah asserted that securing reservations for Kapus, Telagas, Balijas and Ontari castes was their right.
"We are going to bring to the notice of the chief minister that if he does not provide reservations to Kapus as per their population ratio, he would have face the defeat in the next elections," he said.
Jogaiah, who has already launched Kapu Samkshema Sena to revive the Kapu movement, reacted sharply over the attack of YSR Congress party leaders against Pawan Kalyan recently after the latter's comments against the Jagan government.
He alleged that making abusive comments against Pawan was nothing but abusing the entire Kapu community. He warned that Jagan would have to pay a heavy price in the next elections for targeting Pawan.
Click Here for Latest Direct-to-OTT Releases (List Updates Daily)