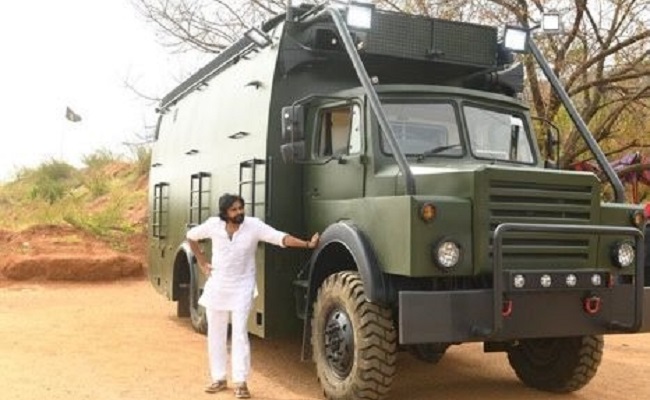 The Jana Sena leaders and the cadre at the grassroots are eagerly awaiting the appearance of their leader Pawan Kalyan and his much-talked-about campaign vehicle – Varahi.
It has been months since Pawan Kalyan visited any place in Andhra Pradesh and addressed a meeting. His latest public appearance was his meeting with TDP president N Chandrababu Naidu last week in Hyderabad. After this meeting, he has not been seen or heard from.
He had pledged to work to keep the anti-government vote intact and to defeat the ruling YSR Congress in the next election. However, after making this pledge three months ago, he has not been seen meeting with party workers or the general public in the state.
He had also spoken highly of his campaign vehicle – Varahi – and brought it to Andhra Pradesh four to five months ago.
In January, he performed pooja at Kanakadurga temple for the vehicle. However, since then, the vehicle has disappeared from the state political scene and has not been seen moving or parked in Andhra Pradesh.
It is said that Varahi is now being rented as a caravan in the film industry, rather than being a political vehicle.
Surprisingly, Pawan Kalyan is also busy with his films, just like his Varahi, and is doing part-time politics. It is questionable how he will defeat the ruling party, whose leaders are full-time politicians!