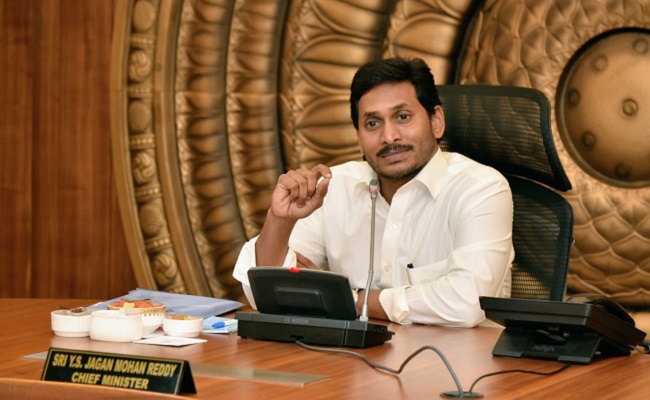 It looks like YSR Congress party president and Andhra Pradesh chief minister Y S Jagan Mohan Reddy's pet programme – of distributing over 26 lakh house sites to the landless poor – is facing hurdle after hurdle.
The house sites distribution programme was originally planned for Wednesday, coinciding with Ugadi festival, with a lot of publicity and fanfare.
At one stage, Jagan even invited Prime Minister Narendra Modi to launch the programme to give it a nationwide projection.
But the first hurdle came from State Election Commissioner Nimmagadda Ramesh Kumar who issued orders asking the Jagan government to put off the house sites' distribution programme on the pretext of model code of conduct for local body elections came.
Jagan fumed at Ramesh Kumar for deferring the programme and complained Governor Biswabhushan Harichandan against the SEC orders but he had no other option as the Centre issued directions to all state to avoid all public gatherings and functions on account of Coronavirus threat.
In the meantime, Jagan received two major setbacks from the state high court. It stayed distribution of housing sites to over 54,000 landless poor in several villages of Amaravati capital region, following a petition by farmers of Amaravati.
Secondly, the court also cancelled the government's order to take away over 6,000 acres of assigned lands and distribute them as house sites for the poor.
Though Jagan had overcome the hurdle of house sites distribution on Ugadi, as the SEC was forced to lift the model code of conduct following the Supreme Court directions, he did not do so because of Corona effect.
So, he chose to defer the programme to April 14, which will coincide with the birth anniversary of Babasaheb B R Ambedkar.
Apparently, he thought he would get a huge mileage if plots are distributed on April 14, because many of the beneficiaries belong to Dalit communities and it would be a tribute for Ambedkar as well.
But all the plans of Jagan have now gone topsy turvy due to sudden decision of Prime Minister Narendra Modi imposing nation-wide lockdown till April 15.
So, Jagan will have no choice but to postpone the house sites distribution programme once again till the situation becomes normal!
CLICK HERE!! For the In Depth Updates on all the OTT Content