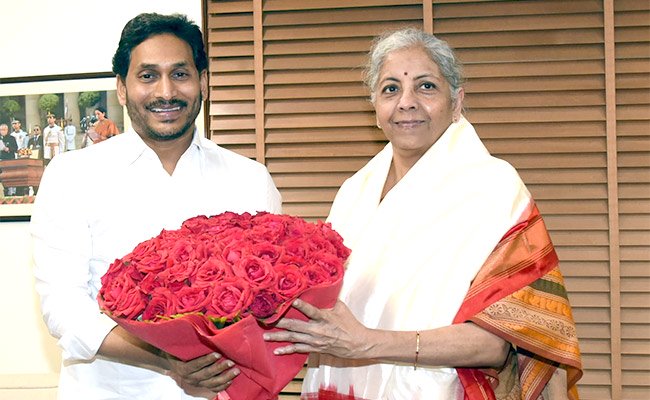 YSR Congress party president and Andhra Pradesh chief minister Y S Jagan Mohan Reddy has been frequently touring New Delhi and meeting various top leaders, including Prime Minister Narendra Modi, Union Home Minister Amit Shah, and various other Union ministers.
It's quite common for any chief minister to go to Delhi and hold discussions with the Prime Minister and various Union ministers to represent issues pertaining to the state. There is nothing wrong with it, and every CM does it.
Whenever the chief minister goes to Delhi, there is a specific purpose, and it has to be reflected in the official release sent to the media. If the visit is purely personal, the government doesn't have to issue any press release, as it is not mandatory for the CMO to reveal everything to the media.
But in the last few months, whenever Jagan went to Delhi, his CMO has been releasing the same old press releases, making slight changes here and there.
The substance is the same, and the issues are the same, and the media is virtually in a state of confusion as to what to report afresh.
Moreover, the chief minister has been visiting Delhi within a short span of time. He went to the national capital on March 17 to meet Modi and others and again on March 29 to meet Shah and Finance Minister Nirmala Sitaraman.
Naturally, it will create a lot of curiosity among the media, but surprisingly, the press releases continued to be the same on both occasions, as had been the case for the last few years – clearance of pending arrears, revenue deficit reimbursement, enhanced Polavaram project cost, dues from Telangana discoms, increase of credit limit, etc.
So, the media is virtually fed up with seeing the same old press releases and the same old pictures of Jagan presenting bouquets to the Union ministers. They are wondering how to report on these visits.
It is time the CMO releases factual information to the media, instead of churning out the same old press releases.
It would only cause damage to the government, as the media tries to speculate on Jagan's frequent visits and carry stories on whatever information they get from their sources.
If Jagan's visits to Delhi are completely confidential, let the government not release any statements to the media. Nobody would question him why he had come to Delhi. Speculations will always be there irrespective of whether the press releases are issued or not!