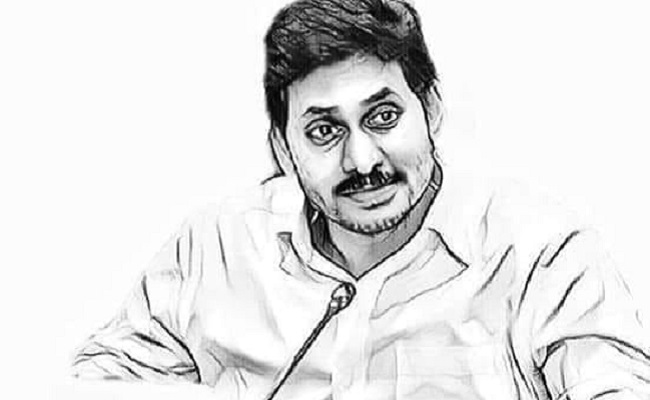 It has been exactly a year since YSR Congress party president and Andhra Pradesh chief minister Y S Jagan Mohan Reddy came to power, decimating his formidable opposition Telugu Desam Party led by seasoned politician N Chandrababu Naidu, by a huge margin.
Some people may say it is still too premature to judge the performance of Jagan in a span of just one year, but it has definitely enough to come to a broader assessment of his governance and his priorities.
He will definitely gain a lot of experience in the next two or three years but people would have come to an understanding about his administration by then and make up their mind on whether to give him a second chance or not in 2019.
Even Jagan must have felt the difference between what he had visualised as an enthusiastic leader walking through the highways and roads during his marathon 3,640-km-long padayatra across the state from November 2017 to January 2019 and what he had seen as a man in the hot seat in the last one year.
Jagan knew that the people had given him an overwhelming mandate, not only because they were vexed with the Chandrababu Naidu government in the previous five years, but also because he had given several promises to every section of the society after seeing their plight during his marathon padayatra.
They were attracted by his slogan: "Nenu Kannanu, Nenu Vinnanu.. Meeku Nenu Unnanu" (I heard about your problems, I saw them and I am here to take care of you) and voted for him in big numbers.
And within days of assuming power on May 30 last year, Jagan focussed on implementation of the promises he had given to the people, which were incorporated in his manifesto in the form of "Nava Ratnalu" (nine jewels) – nine promises that would transform the lives of the people.
Nobody, even the opposition parties, can deny the fact that Jagan has been making efforts to implement his nine key promises one after the other in the last one year. He knew that only by implementing his promises to the poor would he be able to establish his credibility and consolidate his vote bank at the grassroots level.
"He has made every effort to win the confidence of those sections of people who voted for him and his party in the last elections by delivering what he had promised," a political analyst observed.
The establishment of village/ward secretariats and appointment of over three lakh village/ward volunteers was the biggest achievement of Jagan and this network is going to make a huge contribution to bring him to power for a second term four years down the line.
Reason is simple: through this network of village volunteers, Jagan has been able to reach out to every household, particularly the poor in the villages in the form of pensions and ration.
"The system has been so effective that in the times of Coronavirus, three rounds of household survey were held and the pension, ration, rice and dal were provided by the social delivery system of village and ward volunteers," Jagan said.
Schemes like Amma Vodi, Jagananna Vidya Deevena, YSR Rythu Bharosa, Arogya Sri, enhanced pensions and financial assistance to every vulnerable section would definitely go a long way in establishing Jagan as the man of the masses.
The YSRC leader had also mastered the art of social engineering, designing every scheme to benefit weaker sections – SCs, STs, OBCs, minorities, women, Kapus and Brahmins, which formed his vote bank. Even in the formation of cabinet and filling up of nominated posts, he adopted this social engineering formula – reserving 50 per cent of them for weaker sections.
However, what Jagan ignored in the last one year, in his eagerness to consolidate his vote bank, was developmental programmes. Notwithstanding the claims being made by Jagan and his ministers, the fact is pretty evident that no attempt was made for industrial growth, infrastructure development and attracting new investments into the state.
On the other hand, the YSRC chief, in his overzealousness and vengeance towards his political rival N Chandrababu Naidu, sought to undo whatever his predecessor had done on the infrastructure front.
He tried to cancel power purchase agreements signed with solar and wind power producers during the TDP regime, terminated contracts signed with various companies for projects worth thousands of crores, including Amaravati core capital works by Singapore Consortium, Machilipatnam Port, Krishnapatnam Port SEZ, Convention Centre by Lulu group at Visakhapatnam, Adani group's data centre at Viskahapatnam etc.
In the name of reverse tendering, Jagan cancelled contracts awarded several projects including Polavaram and Veligonda and claimed to have saved a few hundred crores, but with the projects remaining in limbo for several months, the additional cost to be incurred on them is likely to be more than what he has saved through reverse tendering.
Starting from demolition of Praja Vedika at Vundavalli, reducing the security cover for Naidu, serving notices for demolition of his riverfront residence, doing away with Amaravati capital city project and going in for three capitals proposal, ordering probe into select group of TDP leaders belonging to a particular community on the pretext of insider trading, foiling an opposition protest rally at Atmakur in Palnadu region, targeting individual TDP leaders by destroying their financial roots, projected him in bad light as a man with factionist mentality and a vengeful politician.
Adding to this, Jagan entered into confrontation with institutions like State Election Commission, State legislative council and even judiciary.
"He has no doubt got an unprecedented mandate from the people by wining 151 out of 175 assembly seats in the state and 22 out of 25 Lok Sabha seats with nearly 50 per cent vote share. But that does not mean he is the ultimate authority over every system. He has to work in tandem with the systems which have constitutional safeguards. Otherwise, he would have to face debacles in judiciary which he is facing now," another analyst observed.
Many people feel that it was Jagan who has given a new lease of life to the opposition parties, particularly the TDP, with his controversial decisions and also vendetta politics.
"He should have completely ignored the opposition and with the kind of majority he has in the assembly, he should go ahead with his welfare and development agenda. The opposition will automatically collapse," the analyst said.
In this, Jagan should learn a lesson or two from his counterpart in Telangana K Chandrasekhar Rao. In his first term, the Telangana Rashtra Samithi leader got just 63 seats in the 119-member assembly – just three seats more than the absolute majority.
Unlike Jagan, KCR did not target the opposition Congress party leaders though there were several allegations against many of them. He just ignored the opposition. While concentrating on developmental programmes like Mission Kakatiya and Mission Bhagiratha, rural roads development, developing new industrial policy and IT sector development etc, KCR quietly decimated the opposition parties by luring their MLAs into the TRS and consolidated his position.
He introduced welfare schemes like round-the-clock free power to agriculture and Rythu Bandhu only in the fourth year and returned to power with a huge majority.
"He successfully diverted the attention of the people from the opposition parties to the TRS by taking up developmental and welfare programmes in a big way. And the Congress and the BJP have become irrelevant now," the analyst said.
But by openly targeting Naidu and hounding the TDP leaders of a particular community, Jagan displayed his sheer vengeance.
"Had he concentrated on his job and continued the projects of the previous government, the people would have forgotten the TDP over a period of time," he added.
It is time Jagan focus on governance, regulatory reforms and improving public infrastructure instead of going after the heads of the opposition parties, confronting the systems and creating new controversies.