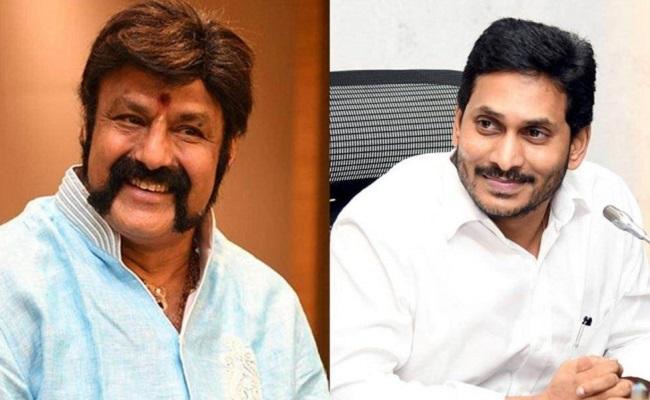 YSR Congress party president and Andhra Pradesh chief minister Y S Jagan Mohan Reddy might have utter contempt towards Telugu Desam Party president N Chandrababu Naidu and his family, but when it comes to a genuine demand from the opposition party, he would not turn it down blindly.
According to sources in the government, the chief minister has reacted to a request from Naidu's brother-in-law and TDP legislator Nandamuri Balakrishna for making Hindupur as the district headquarters for the newly-formed Satya Sai district, in place of Puttaparthi.
Balakrishna has been agitating for quite some time and even led a rally in Hindupur demanding that the town be made the capital of the Hindupur district, which has been named after Bhagwan Satya Sai Baba.
He wrote a letter to the chief minister explaining the advantages of Hindupur as the district headquarters compared to Puttaparthy. He even declared that he would meet the chief minister to place the request.
Though Balayya could not meet Jagan in this regard, his demand is likely to be conceded by the government.
The chief minister is expected to make a statement to this effect in the assembly on the new districts, along with other changes likely to be made in the various district headquarters, as per the requisitions received from various quarters.
Apparently, Jagan's strategy on accepting Hindupur as the district headquarters is to increase the YSRC vote bank in the constituency, instead of pleasing Balakrishna.
The chief minister is hell bent on defeating Balayya in the next elections, along with Naidu in Kuppam.
In fact, Jagan is also likely to concede the demand of the TDP leaders to declare Kuppam as a revenue division.
This would definitely turn the tide in favour of the YSRC in Kuppam, as having a revenue division in the constituency has been the dream of the local people for the last 14 years, which was not granted even by Naidu in is regime.
The chief minister is of the view that the reorganisation of the districts would definitely bring a lot of mileage to the YSRC, as it would consolidate the vote bank at the grassroots level.