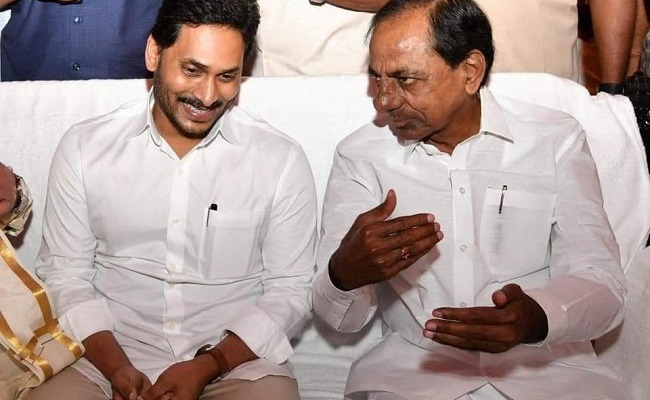 If the reports doing in the media circles are to be believed, YSR Congress party president and Andhra Pradesh chief minister Y S Jagan Mohan Reddy will meet his Telangana counterpart and Bharat Rashtra Samithi president K Chandrasekhar Rao next week.
The stage is Sharada Peetham at Chinna Mushidivada in Visakhapatnam, the ashram of Swamy Swaroopanandendra Saraswati on the occasion of the annual Brahmotsavams of the peetham to be held from January 27 to 31.
The Swamiji is said to have sent invitations to both the chief ministers to attend the inaugural day of the Brahmotsavams on January 28, when he would perform Raja Shyamala Yagnam.
While Jagan has reportedly given his consent to attend the programme on January 28, KCR is yet to confirm his travel. Since KCR has performed Raja Shyamala Yagam very recently in Delhi under the auspices of Swamiji, he may also turn up for the event on the same day, sources said.
It has been a long time since Jagan and KCR have met each other. Though the chief ministers are said to be in touch with each other over phone, they haven't met personally.
At the same time, both the states are giving the impression that they are in confrontation over several issues related to state bifurcation, pending between them for a long time, including on Krishna and Godavari river water sharing.
"Now, there is an opportunity for them to come on the same stage. It may also give a scope for them to hold one-on-one discussions. The meeting is going to take place, unless KCR decides otherwise," sources said.
In any case, KCR is also planning to launch his Andhra unit of BRS in Visakhapatnam and address a huge rally in the port city.
He may not have the public meeting immediately but his visit to Visakhapatnam will certainly generate a lot of euphoria among his party ranks.
This visit might prepare the ground for the launch of the BRS in Visakhapatnam in the coming days, sources added.