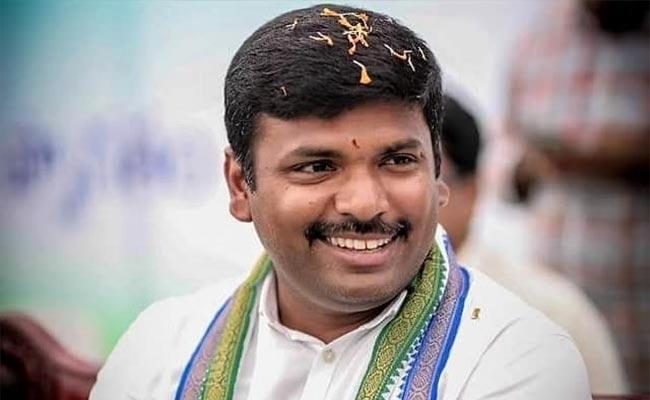 What's in a name, one might ask. But sometimes, wrong reference to any person's name causes a lot of embarrassment to him, especially if it is related to one's caste.
So, Andhra Pradesh state industries minister Gudivada Amarnath, who represents Anakapalli assembly constituency, recently made an appeal to the local industrial groups not to wrongly give him "Reddy" tag while referring to his name.
He made this appeal in the wake of chief minister Y S Jagan Mohan Reddy's visit to Anakapalli to inaugurate ATG Tyres Company on August 16.
"During this programme, don't call me Amarnath Reddy. Please refer to me only as Gudivada Amarnath and don't attach Reddy tag to my name," the minister told them, for which they agreed.
There is a reason for the minister's appeal to the industrial groups. During the recent event at Tirupati where Jagan inaugurated Apache factory, the organisers and even industrialists referred to Amarnath as Amarnath Reddy.
Apparently, they might have thought Jagan being a Reddy, the minister also must be a Reddy. Secondly, his predecessor late Mekapati Goutham Reddy, who was also industries minister, was also a Reddy.
Thirdly, they might have also been confused with N Amarnath Reddy, former industries minister during the Telugu Desam Party regime. In fact, he was holding the industries portfolio when the foundation for Apache was laid at Tirupati.
So, they got confused and felt the present industries minister Gudivada Amarnath also could be a Reddy and called him with this tag, which caused a lot of embarrassment to him in the presence of the chief minister.
That is why, he alerted the organisers of Anakapalli event well in advance about his name and asked him to call only as Gudivada Amarnath. In fact, he is a Kapu leader and son of former MLA Gudivada Gurnath Rao.
Amarnath has not been calling him as Amarnath Rao but wants to be referred to as just Amarnath!