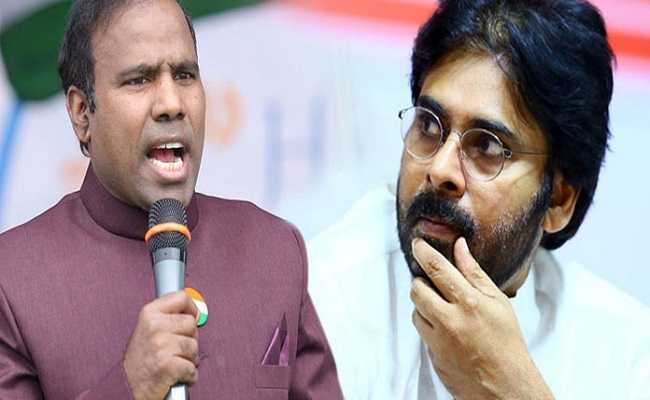 Maverick evangelist and self-styled president of Praja Shanti Party K A Paul on Tuesday gave a bumper offer to power star and Jana Sena Party president Pawan Kalyan for the next elections to the Andhra Pradesh state assembly to be held in 2024.
He asked Pawan Kalyan quits Jana Sena Party and joins Praja Shanti Party; or merges his Jana Sena Party with Praja Shanti Party.
"If he does that, I will ensure that Pawan Kalyan would get elected either as an MP or an MLA," he said.
Paul also made another offer.
"If I cannot secure the victory of Pawan Kalyan as an MP or MLA, I will pay Rs 1,000 crore to him. This is my offer," he said.
The evangelist said there was no question of the Jana Sena Party chief winning the elections without his support.
"So, instead of running after alliance with the Bharatiya Janata Party or the Telugu Desam Party, it is better Pawan Kalyan joins our party," he said.
Paul, however, found fault the power star quoting a Bible verse while asking the TDP to come down a few steps if it wants an alliance with Jana Sena Party.
The actor said: "Whoever exalts himself will be humbled, and whoever humbles himself will be exalted."
The evangelist wondered how Pawan Kalyan could quote a Bible verse, while continuing the alliance with a Hindu party like the BJP.
"It is shameful on his part," Paul said.
Meanwhile, firebrand YSR Congress party leader and Andhra Pradesh minister for culture and tourism R K Roja fumed at Pawan Kalyan for throwing options to the other opposition parties for an alliance.
"He may be a reel life hero. He can never become a real life hero, forget about becoming the chief minister. Neither Pawan or Chandrababu Naidu has the interest to serve the people; their only intention is to come to power. But even if they come together and forge an alliance, they cannot unseat Jagan," she said.