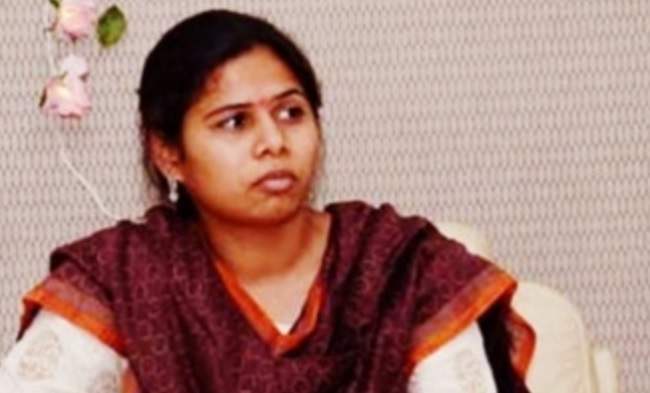 In a rude shock to former Andhra Pradesh tourism minister and Telugu Desam Party leader Bhuma Akhila Priya, a Secunderabad court on Monday rejected her bail petition and instead, handed over to the police custody for two days.
Akhila Priya, who was arrested on January 6 from her Kukatpally residence in Hyderabad in connection with the kidnap of three persons in the multi-crore Hafeezpet land dispute, had been languishing in Chanchalguda women's prison in judicial custody.
Her lawyers argued that she is pregnant and also suffering from epilepsy; and that her health condition is not good. Hence, she deserved bail, they said.
The court, which examined the medical report submitted by the Gandhi Hospital authorities, rejected her bail plea as the medical reports suggested that she is quite healthy.
The court also agreed with the arguments of the police that Akhila Priya had a strong political background and she could influence the witnesses if she was granted bail.
However, the court granted only two-day police custody of the accused till Wednesday, thought the police asked for a seven-day custody.
The police initially named Akhila Priya as the accused no. 2 (A-2) in the abduction case, later changed the FIR and named her as the prime accused (A-1).
Her political rival and another TDP leader A V Subba Reddy, who was made A-1 initially, was let him off by the police after questioning. He is now made A-2.
The police, who had registered cases against her under Sections 419 (cheating by personation), 341 and 342 (wrongful restraint and confinement), 452 (trespassing), 506 (criminal intimidation) and 365 (abduction) of Indian Penal Code, filed two more cases under Section 147 (rioting) and 385 (extortion) against her.
Akhila Priya's husband Bhargav Ram, who is A-3, is still absconding.