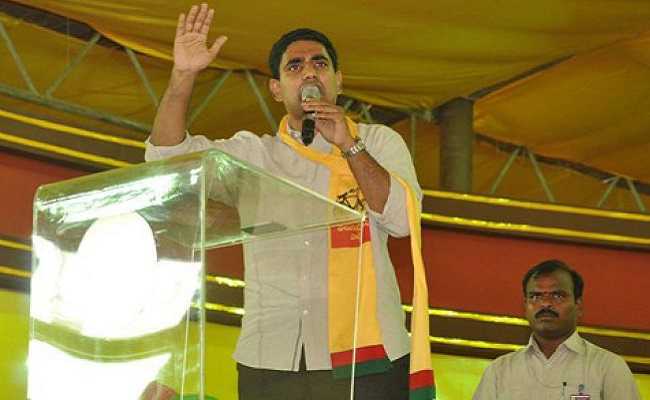 The Telugu Desam Party leaders and cadres are euphoric after the party's biennial conclave Mahanadu held at Ongole on May 27 and 28, as they feel the meeting was a big success, despite hurdles created by the Jagan government and the police.
But the biggest take from Mahanadu, political observers say, is the emergence of party general secretary Nara Lokesh as the heir apparent of party president and former Andhra Pradesh chief minister N Chandrababu Naidu.
Hitherto, even many of the party leaders and cadres were of the view that Lokesh is a liability to the party. His credibility had gone down completely after his loss in the assembly elections from Mangalagiri constituency in 2019.
And the ruling YSR Congress could successfully send a message across the state that Lokesh is a "pappu" and a good-for-nothing fellow.
His lack of articulation and ignorance of issues has also led to an impression among the cadre that he wouldn't fit into the shoes of Naidu.
But over the last few months, Lokesh has been struggling to prove his leadership abilities. He has been touring places, interacting with people and holding meetings with the party cadres.
He has been regularly issuing statements both in the social media and mainstream media, making allegations against the Jagan government and also countering the attacks from the YSRC leaders.
And at Mahanadu, Lokesh was everywhere to be seen. He has also started talking about the policy decisions of the party – like refusal of tickets to three-time successive losers, issuance of 40 percent of the party tickets to the youth and cap on the term of the party positions.
He even offered to step down from the party general secretary post, which he had bene holding for the last three terms.
"At the Mahanadu, it was very clear that Lokesh is No. 2 in the party and the leaders have already started running around him. So, Lokesh will be calling shots in the party in the coming days," analysts said.
Though Lokesh might not be projected as the chief ministerial candidate of the party, the fact that Naidu is giving enough freedom to Lokesh itself is an indication that he is going to be the successor for the party at least after the next five years.