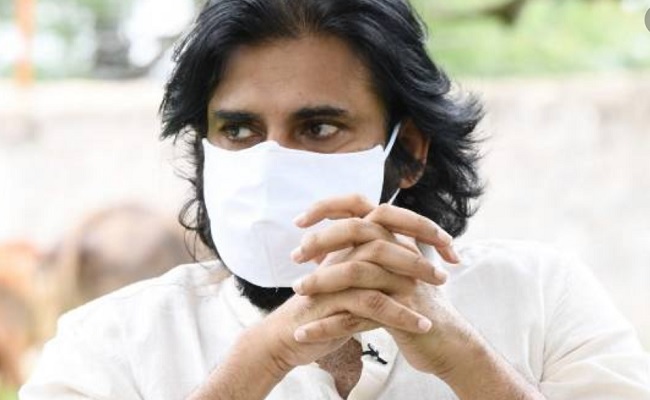 Ever since Jana Sena Party chief and power star Pawan Kalyan gave up his leftist leanings and announced his party's alliance with the Bharatiya Janata Party, he appears to have surrendered his ground completely to the saffron party.
Instead of taking initiative in organising programmes on behalf of Jana Sena in Andhra Pradesh, Pawan and his party leaders are confined to supporting the BJP programmes and endorsing its statements. The Jana Sena seems to have lost its originality completely.
On Saturday, the Jana Sena chief went a step ahead and declared Prime Minister Narendra Modi as the saviour of the country, which had not witnessed any other such ruler in the history for several centuries.
"We have grown up studying Indian history which talked about aggression by foreign invaders who had usurped our land. But there was no king or emperor who could not prevent these foreign invaders occupying our land. But now, we are seeing how Narendra Modi is safeguarding our territories and protecting the country's integrity," Pawan said, in his third part of the interview released to the media.
He said he had always felt the lack of a powerful leadership in the country, after watching terrorists from Pakistan attacking Mumbai and killing people.
"When some decisions are taken, they might not be acceptable to all and are even difficult to defend. But in the long-term perspective, they get appreciation from all people," he said.
Pawan admitted that he was wondering why Narendra Modi was touring so many countries after winning the elections in 2014.
"Everybody was critical of his frequent foreign visits leaving the country in the lurch. But his efforts are paying fruits now. Because of the lobbying he had done with other countries over the years, Modi was able to counter a powerful nation like China," the Jana Sena chief said.
"This is the biggest achievement of Modi, which everybody should hail. He has enhanced the country's prestige across the world. We have to salute his great personality," Pawan said.
Well, there is nothing to dispute with what Pawan has said. But one wonders how Jana Sena chief can emerge as a powerful leader by praising Modi, instead of strengthening his own party.
It would be better if he can merge Jana Sena with BJP and turn a hardcore saffron leader!