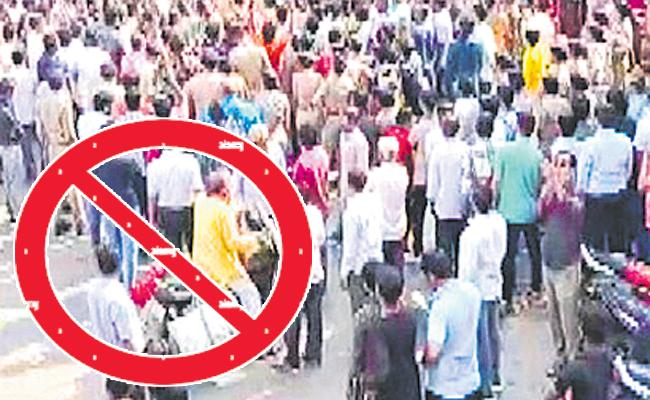 The midnight GO issued by the Y S Jagan Mohan Reddy government in Andhra Pradesh on Monday banning public rallies, public gatherings and road shows on municipal and panchayat roads, state and national highways has triggered an uproar among all the opposition parties.
The GO Rt No. 1 issued by home secretary Harish Kumar Gupta appears to be specifically targeted at the Telugu Desam Party, as it cited the recent stampede at TDP president N Chandrababu Naidu's rally at Kandukuru in Nellore district in which eight people died.
The GO said public meetings/gatherings on roads and road margins are leading to fatal incidents like the one at Kandukuru.
Such roadside meetings, in which people congregate on road margins also, crowd control is not effectively undertaken by reason of the narrow roads, absence of multiple exit points and sudden surge of the crowd towards the speaker, unregulated number of the participants in the crowd by the organisers, last-minutes changes to the locations on the road etc.
Though right to conduct a public meeting is a fundamental right under the Constitution, the state police is also empowered under law to regulate such activity in public interest as per the Police Act.
The government decided that no licence would be granted for any application seeking permission to hold a congregation on national and state highways which are designed for high-speed connectivity.
Instead, such meetings could be held at alternative locations like public grounds and private places.
"However, in rare and exceptional circumstances and for reasons to be recorded in writing, any application could be considered," the order said.
Same is the case with the municipal roads and panchayat roads which are narrow and are meant for free movement of the people staying in the local area.
Only in rare and exceptional circumstances, and for reasons to be recorded in writing, the applications for grant of permission for public meetings may be considered.
"The authority should avoid permitting such meetings on public roads but in rare circumstances while dealing with the subject matter, shall be guided by the width of the road, the duration of the meeting, the location of the venue, exit points, number of people likely to attend the meeting, crowd control measures etc," the order said.
Obviously, the opposition parties are crying foul over the GO.
"It appears the order is issued to curtail only the meetings and road shows of opposition parties. By saying "exceptional circumstances," the order empowers the police to exempt the chief minister for conducting road shows," the TDP leaders are saying.