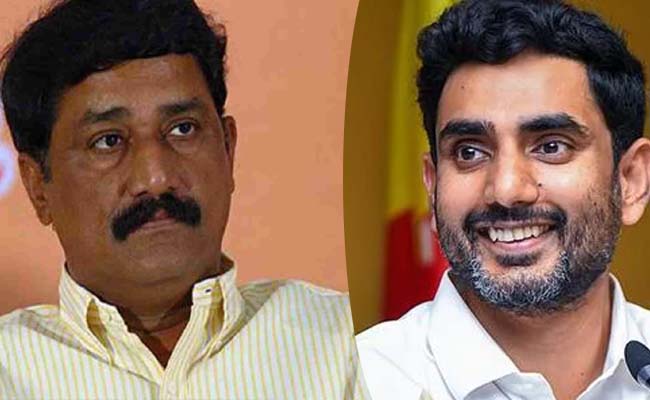 It is now more or less confirmed that former minister and senior Telugu Desam Party legislator from Visakhapatnam (north) Ganta Srinivas Rao has dropped his plans to defect to the ruling YSR Congress party and decided to stay back in the TDP, at least for now.
On Tuesday, Ganta had a lengthy meeting with TDP general secretary and party president N Chandrababu Naidu's son Nara Lokesh at the latter's residence in Hyderabad.
The meeting assumes significance in the wake of reports that Naidu has been upset with the vacillating attitude of Ganta in deciding his future course of action, as the recent reports suggested he might jump the fence any time.
In his 40-minute interaction with Lokesh, the former minister reportedly explained why he had been keeping away from party activities all these days and how he had been facing a threat from the YSRC leadership.
"It is not immediately known how Lokesh had responded to Ganta's explanation, but the latter reportedly assured to the TDP leadership that he would become active in the party hereafter and take part in the party programmes in a big way," sources said.
The change in Ganta's stand towards the TDP is believed to be the fallout of the meeting between party president N Chandrababu Naidu and Jana Sena Party chief and power star Pawan Kalyan, indicating a probable alliance between the two parties.
It may be mentioned that Ganta has been trying consolidate Kapu community for quite some time. In the recent past, he has taken the initiative in floating a forum for Kapu welfare and fighting against injustice meted out to the community.
With Pawan Kalyan openly indicating that he would have an alliance with TDP, Ganta seems to have realised that there is no pointing in quitting the party and felt that he would have better chances of winning the elections in case of an alliance between the two parties.