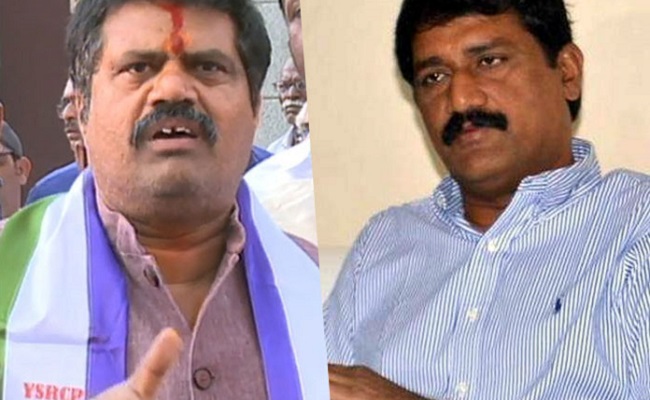 For the last few days, there have been reports that former minister and senior TDP legislator from Visakhapatnam (north) Ganta Srinivasa Rao is planning to defect to the YSRCP.
Surprisingly, neither Ganta nor the TDP leaders have refuted these reports, lending credence to the speculations about his defection.
However, a section of the YSRC party leaders have been vehemently denying these speculations, saying Ganta himself has been fuelling these rumours to create unrest in the YSRC, which has otherwise been peaceful in Visakhapatnam.
There is also a suspicion among the YSRC ranks that some forces claiming to be closer to party president and chief minister Y S Jagan Mohan Reddy, apart from a senior leader from north-coastal Andhra, have been strongly lobbying for bringing Ganta into the party.
The latest talk being spread by this section of the YSRC is that Jagan has given green signal for the entry of Ganta into the party and it is most likely to happen on August 16. Along with Ganta, several TDP leaders close to Ganta would also take a plunge into the ruling party.
As if confirming the reports, Ganta's arch rival in Visakhapatnam and tourism minister Avanti Srinivasa Rao came down heavily on the TDP MLA for trying to make a backdoor entry into the YSRC to avoid being arrested in connection with various scams.
"Everybody knows, his own party leader and former minister Ch Ayyanna Patrudu lodged a complaint with the party leadership against acts of omission and commission of Ganta and the special investigation team of the CID has probed into his illegal deals. Now, he is planning to join the YSRC to get out of these cases," Avanti alleged.
Stating that the high command would take a call on admitting Ganta into the party, the tourism minister said he and senior party leader V Vijay Sai Reddy had exposed the land scams and bicycle scams of Ganta.
"It is an open secret that Ganta always tries to be in the ruling party. He wants to be in the power corridors. He cannot survive without power," Avanti said.